Williams Bottom Camping Area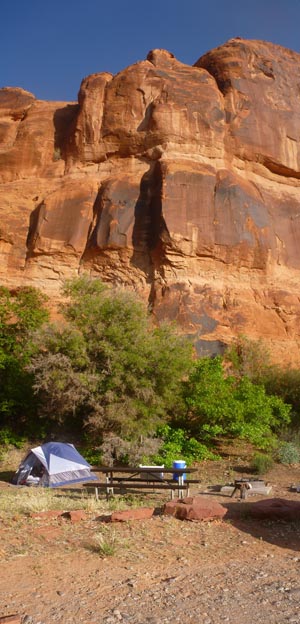 Williams Bottom Camping Area is operated by the BLM. We camped there in April 2012. There was only one site left, and it was out in the open. There is a vault toilet and no water or tables. The camp host was nice.
Trip Report: April 13, 2012
We camped at the Williams Bottom Camping Area Thursday, April 12 through Saturday, April 14, 2012. Camping was $8 per night, and we got the very last camping spot in any of the campgrounds/camping areas along Potash Road.
Zac and Bryce tried to camp in the middle of the trees outside the campground, but the camp host caught them and made them move.
The campsite has a fire ring and a picnic table.
Savannah's favorite part was playing in the dirt with a fork and a cup.
These petroglyphs were to the east of our campsite near the first rock climbing route we attempted.
We discovered that rock climbing in the dark is pretty hard. Especially without a light. The pitons were spaced out pretty far and they looked pretty sketchy so we didn't end up completing the route.
The fun rock climb we did was just west of the pit toilets. Zac and I climbed around the cliff, ran some webbing from the bolts to the lip of the cliff, then dropped the rope. I belayed Zac down then rappeled down.
Zac climbed first and attempted the face of the cliff, which was pretty much impossible. So then he tried the crack. He didn't make it all the way up, so then I tried. I made it all the way up on my first try without ever using the rope, which is kind of like flashing it except that I was top roping instead of lead climbing. Bryce went up last and made it but with quite a bit of help.
In the morning when we went back to get the rope, we found this cool petroglyph panel less than 10 feet from where we were climbing.