Fifth Water Primitive Camping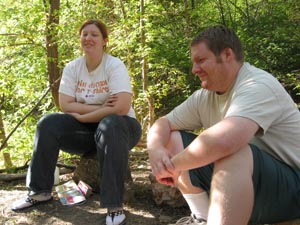 There are several locations for primitive camping near fifth water hot springs. This spot is near the parking area but secluded from view. It is close to the river and very pretty. The only downside is that it has lots of rocks, so it's not very comfortable to sleep on the ground. I would bring an air mattress for sure.
Trip Report: August 27-28, 2009
We camped here with Brad and Marie Neely. In the evening we hiked to Fifth Water Springs.