Ashdown Gorge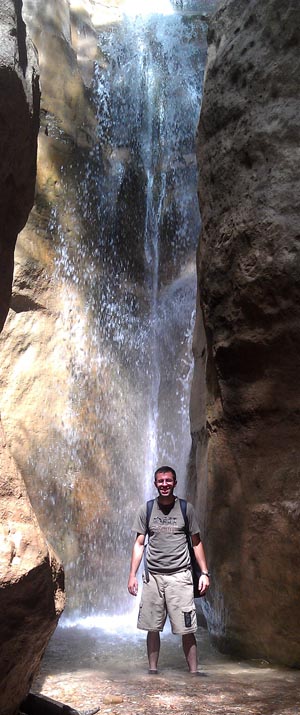 Ashdown Gorge is a river hike down a spectacular canyon. This hike starts at the end of Rattlesnake Creek Trail and ends in Cedar Canyon. Along the way, you will see several huge alcoves, two large waterfalls, spectacularly tall canyon walls, and the 200-foot wide Flanagan's Arch.
Interactive Map

Download KML file to view in Google Earth.
Waypoints
| | | | |
| --- | --- | --- | --- |
| Waypoint | Latitude | Longitude | Description |
| PARK1 | 37.6319391 | -112.9404988 | Park your shuttle vehicle here. Some other guides will tell you to park 1 mile west of here, but this is a better spot. |
| PARK2 | 37.6625664 | -112.8378616 | Park at the trailhead just north of the entrance to Cedar Breaks. There is a large sign that says Ashdown Gorge Wilderness and then a smaller sign that says Rattlesnake Creek Trail. |
| JUNC1 | 37.6625647 | -112.8489261 | Junction #1. Left goes to an overlook. Right is the main trail. |
| VIEW1 | 37.6622568 | -112.8490205 | Viewpoint #1. An overlook of Cedar Breaks National Monument. |
| JUNC2 | 37.6621534 | -112.8515913 | Junction #2. Left goes to an overlook. Right is the main trail. |
| VIEW2 | 37.6619741 | -112.8515301 | Viewpoint #2. An overlook of Cedar Breaks National Monument. |
| CROSS1 | 37.6526058 | -112.8898820 | Cross Rattlesnake Creek. |
| JUNC3 | 37.6416587 | -112.9070692 | Junction #3. High Mountain Trail goes to the north. Rattlesnake Creek Trail continues to the south. |
| CROSS2 | 37.6414245 | -112.9070632 | Cross Rattlesnake Creek over a small waterfall. |
| JUNC4 | 37.6366991 | -112.9044605 | Junction #4. End of Rattlesnake Creek Trail. Potato Hollow Trail goes upstream. Ashdown Gorge goes downstream. |
| SAWMILL | 37.6347688 | -112.8956174 | Historic Ashdown Sawmill. |
| JUNC5 | 37.6365660 | -112.9165716 | Junction #5. Tom's Head. Confluence of Rattlesnake Creek and Ashdown Creek. |
| JUNC6 | 37.6409790 | -112.9100891 | Junction #6. Confluence of Lake Creek and Rattlesnake Creek. |
| WF1 | 37.6410846 | -112.9085731 | Waterfall #1. Rattlesnake Creek Falls. 25 feet tall. |
| WF2 | 37.6417125 | -112.9098699 | Waterfall #2. Lake Creek Falls. 20 feet tall. |
| ARCH | 37.6331149 | -112.9270444 | Flanigan Arch viewpoint. Look at the top of the cliffs high on the right (north). Flanigan Arch is only visible from the south bank of Ashdown Creek. |
Printable Map
Trip Report: August 10, 2013
We hiked down Ashdown Gorge as part of our August Scout camp out. This page is part two of our Rattlesnake Creek / Ashdown Gorge hike. For the first part, jump to the Rattlesnake Creek Trail.
Ashdown Gorge is a pleasant river walk through a deep canyon in the Ashdown Gorge Wilderness Area of Dixie National Forest. It starts at the end of the Rattlesnake Creek Trail and ends in Cedar Canyon.
On the hike were Jeremy Dye, Jake Bearnson, Elijah Wagner, Dylan Prince, and Reese Barnes.
Sorry about the quality of the pictures. My camera battery died, so these pictures were taken with my phone.
We started the Ashdown Gorge portion of our hike at about 1:15. The weather was partly cloudy. Temperatures in the 80s. The water was nice and refreshing. Cool but not cold.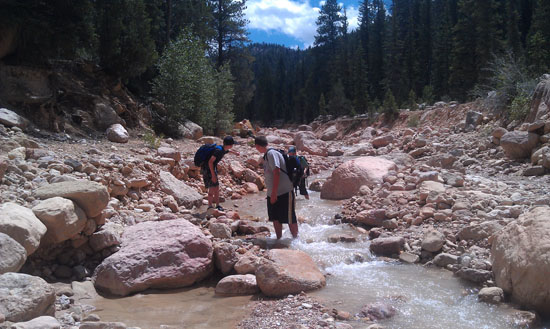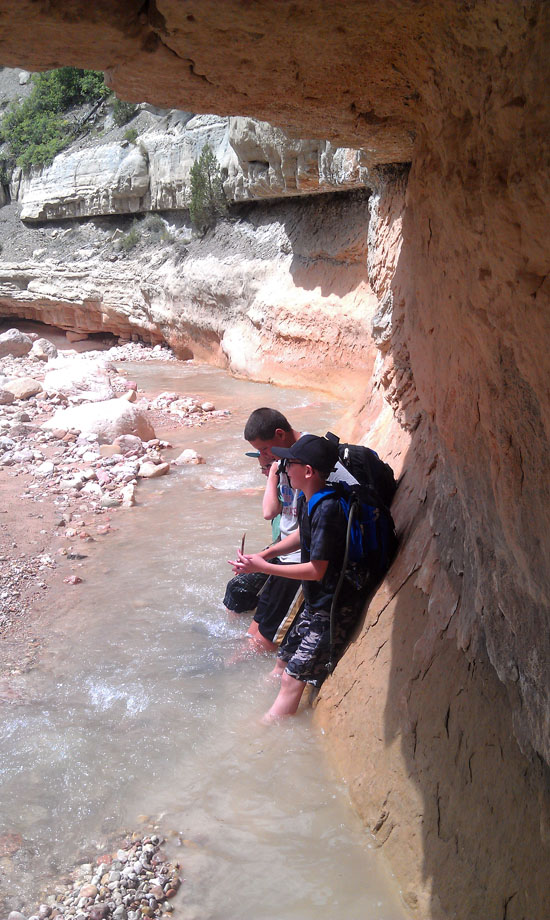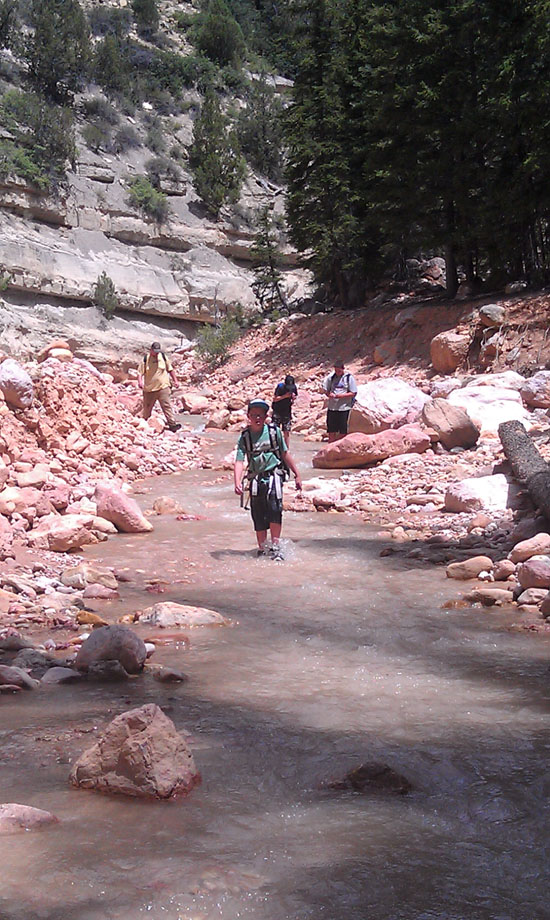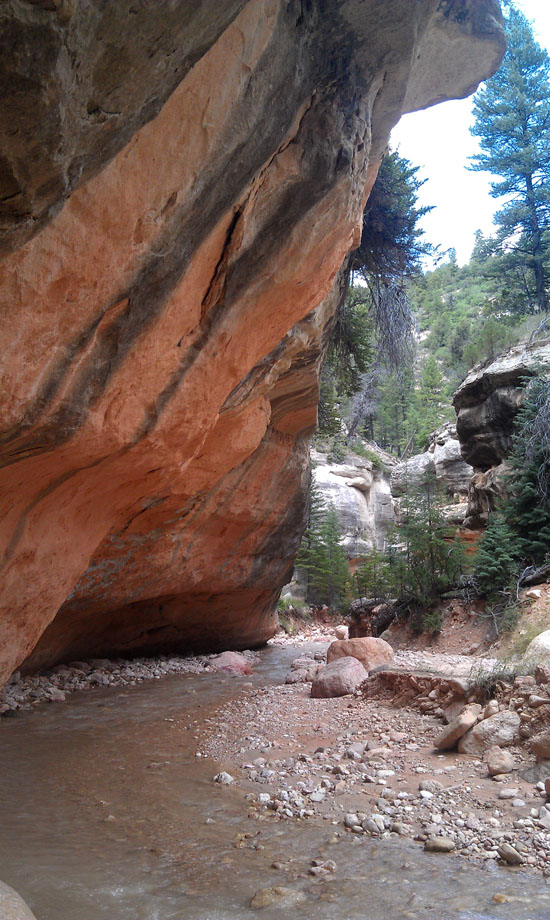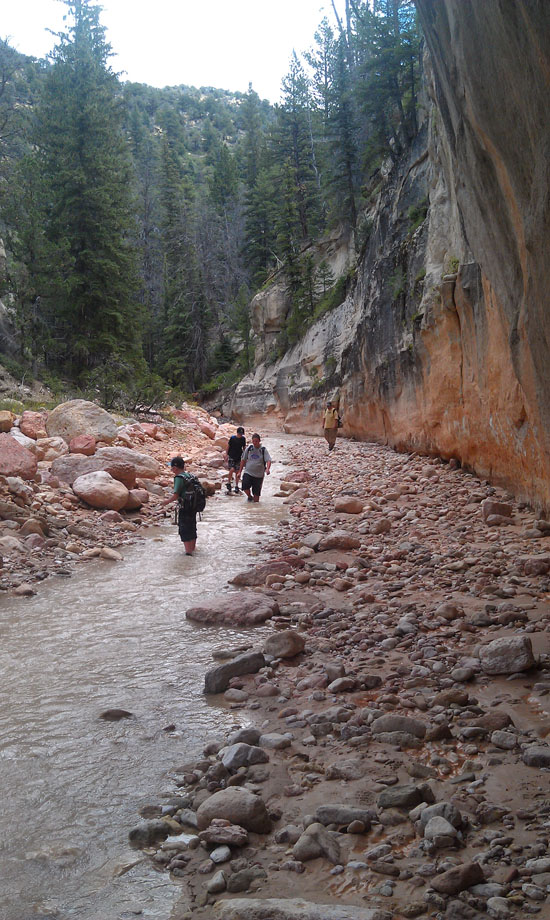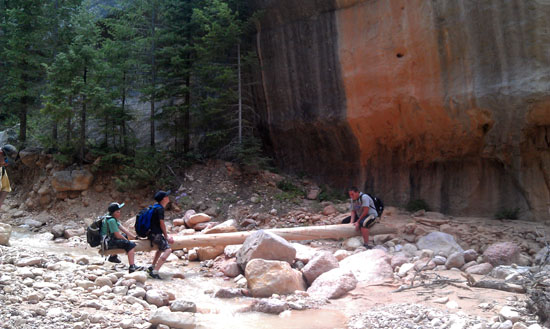 It only took us a few minutes before we entered the "Gorge". Steep canyon walls reached over a hundred feet above us on both sides.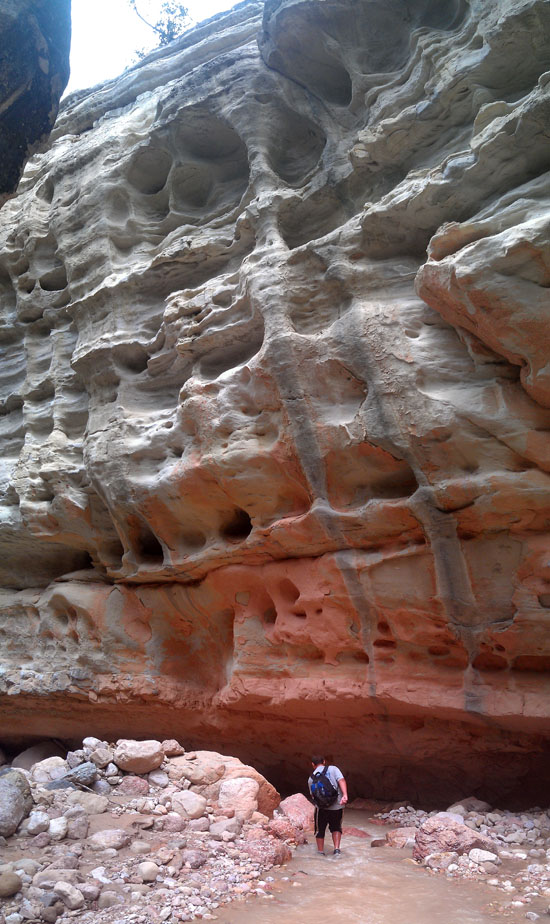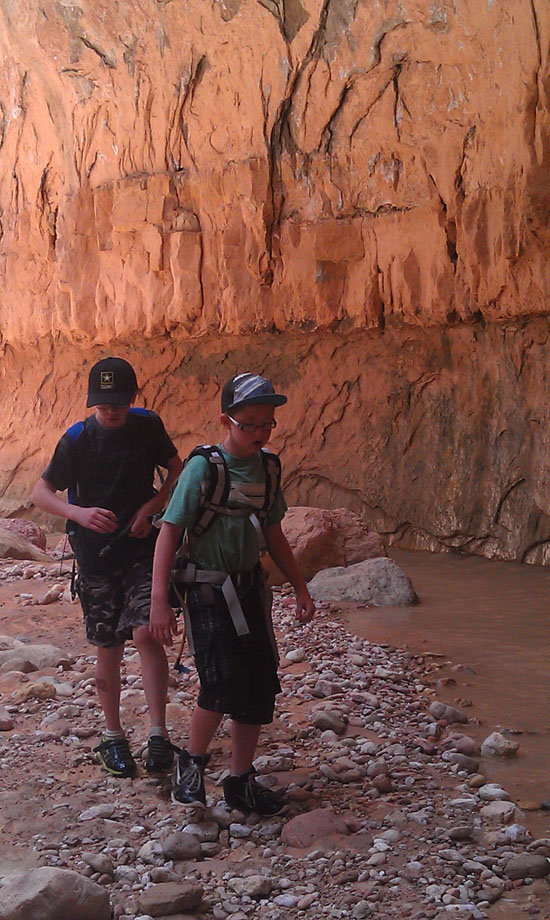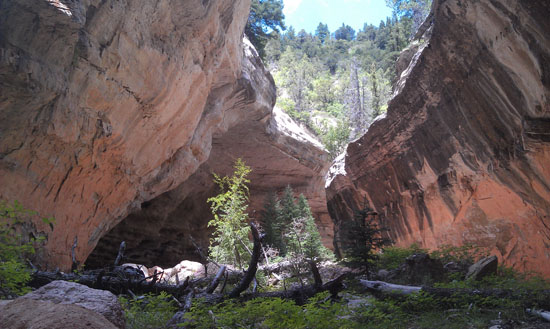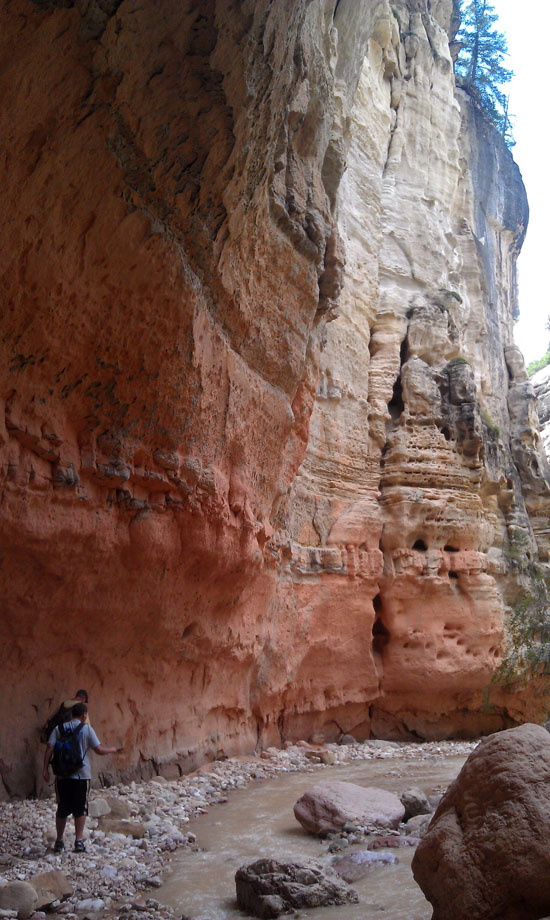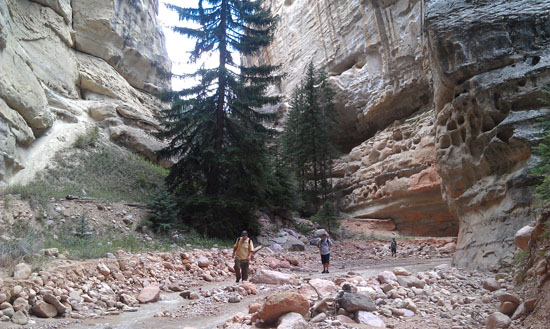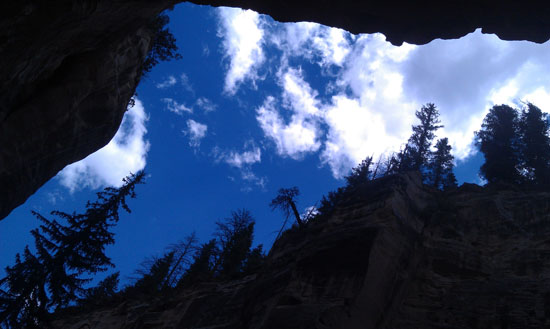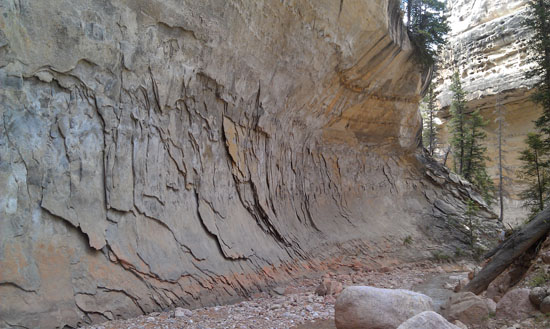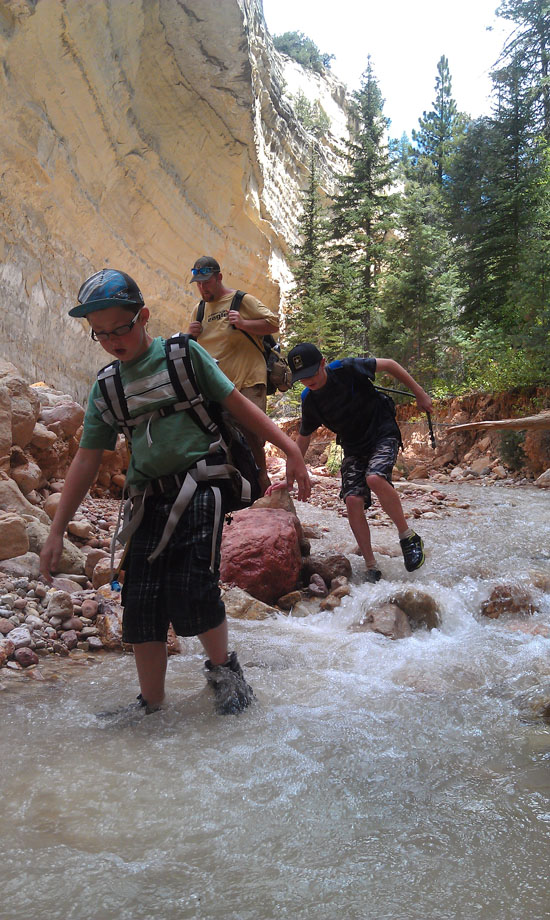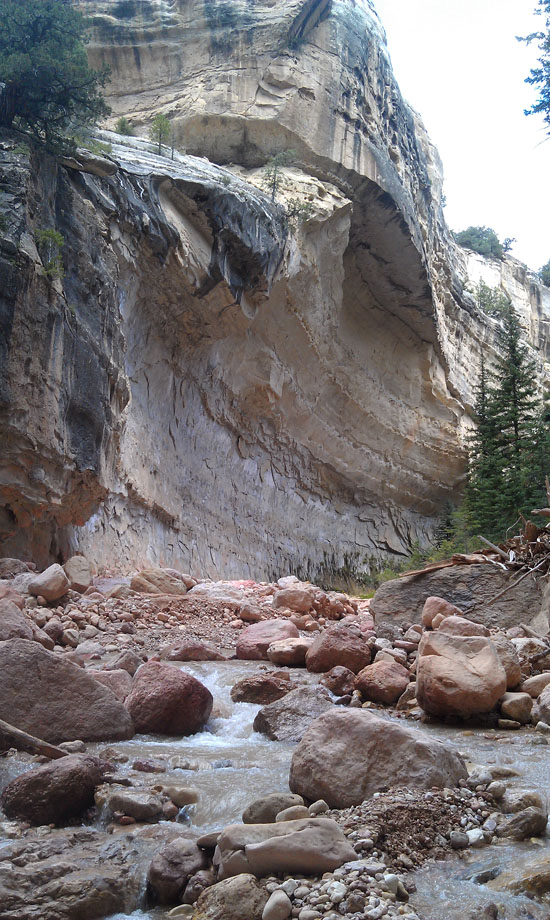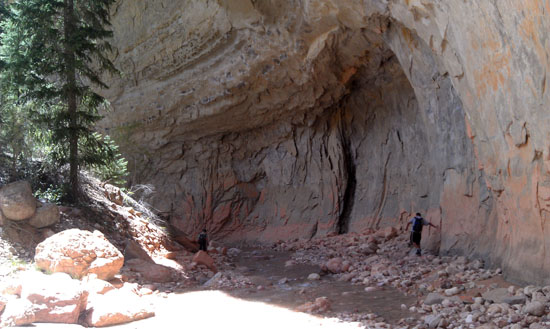 At about 2:15, we arrived at Tom's Head, a 100-foot high limestone monolith that marks the junction of Rattlesnake Creek and Ashdown Creek. From the side, it totally looks like a head.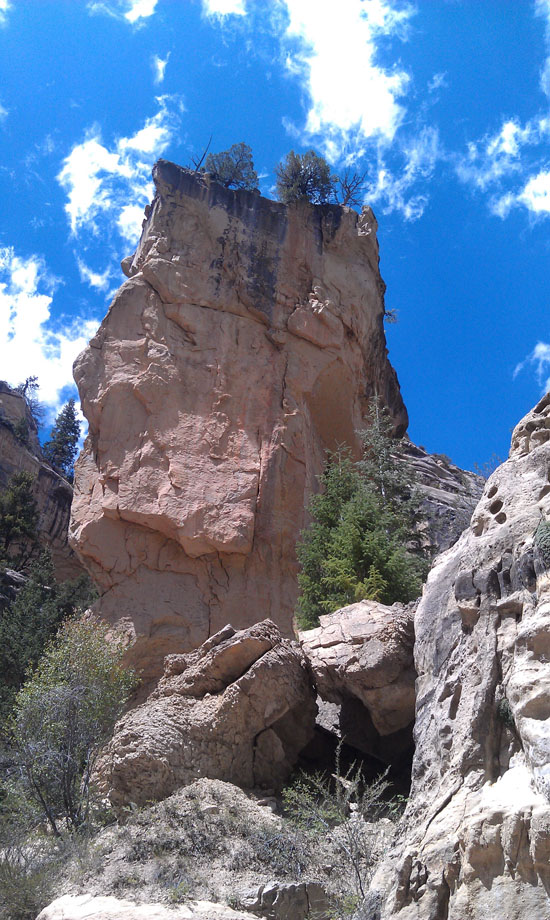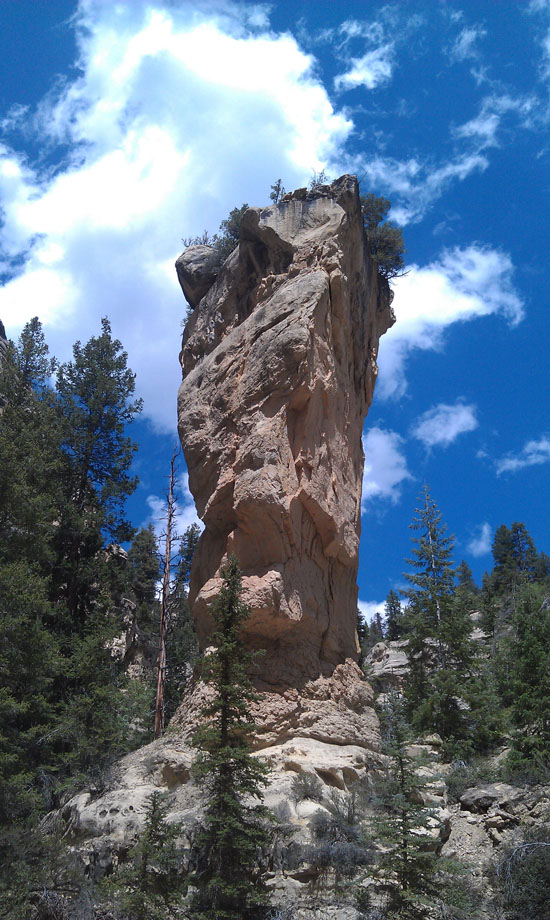 At this point, Jake was getting pretty tired. He wanted to wait at the junction while the rest of us explored up Rattlesnake Creek. So off we went without him.
After about 20 minutes, we arrived at Lower Rattlesnake Creek Falls.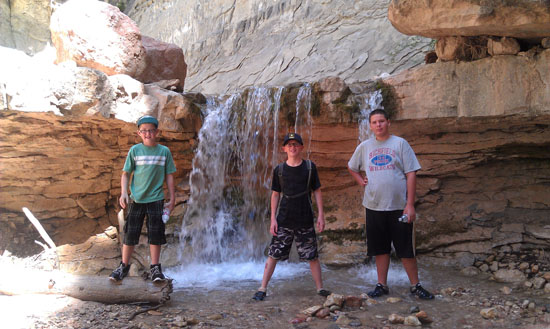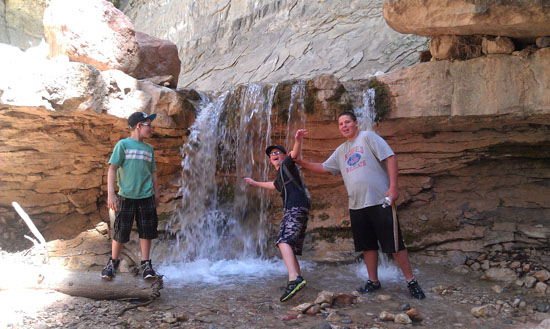 There was a ladder on the left side of the creek.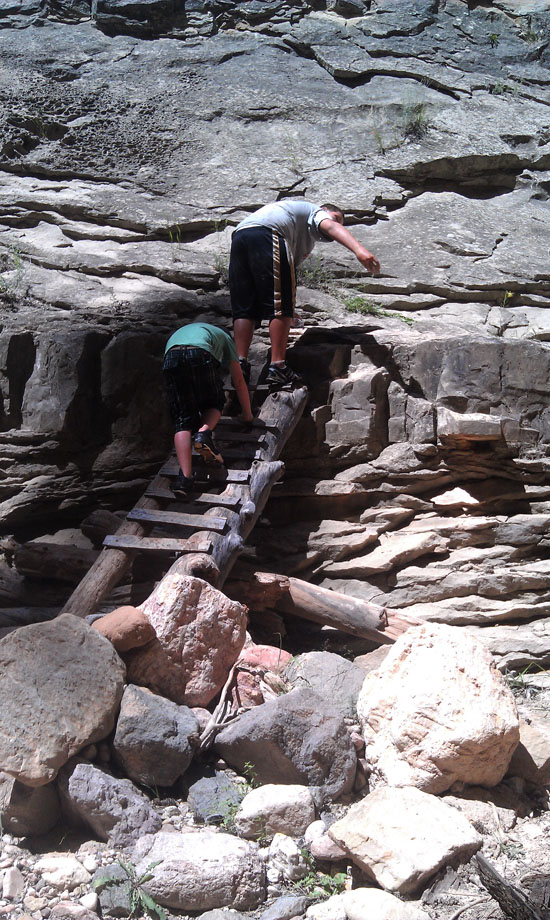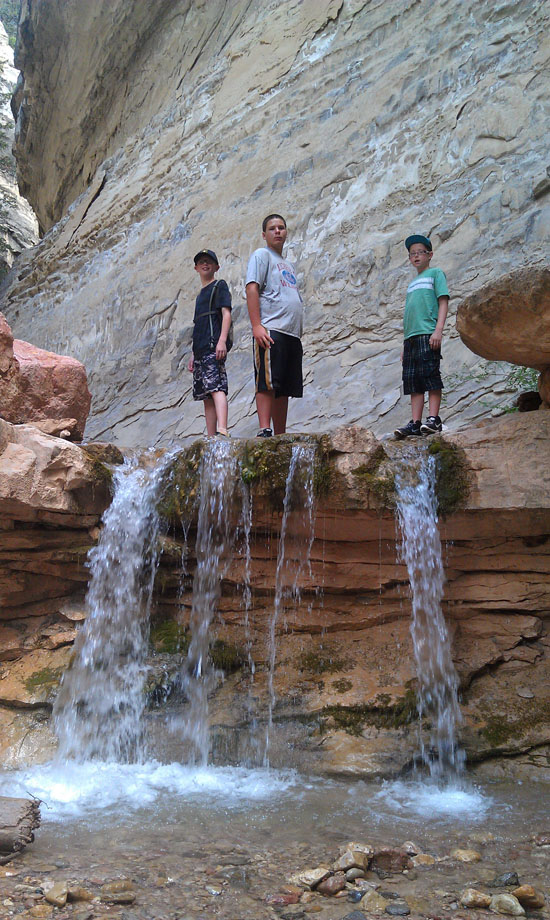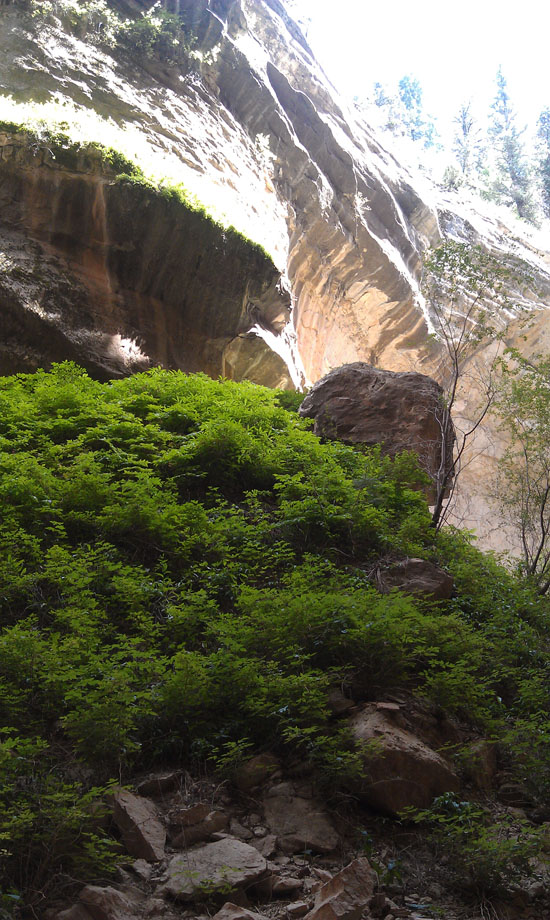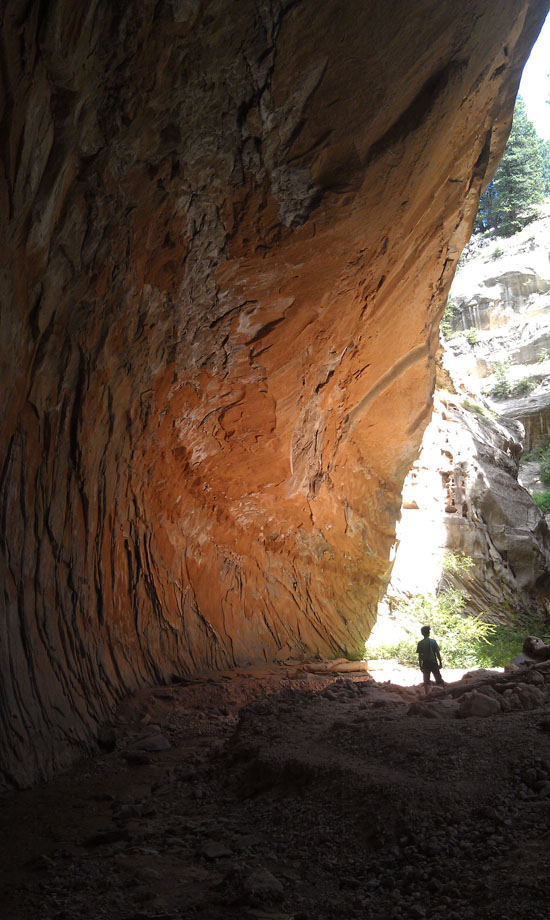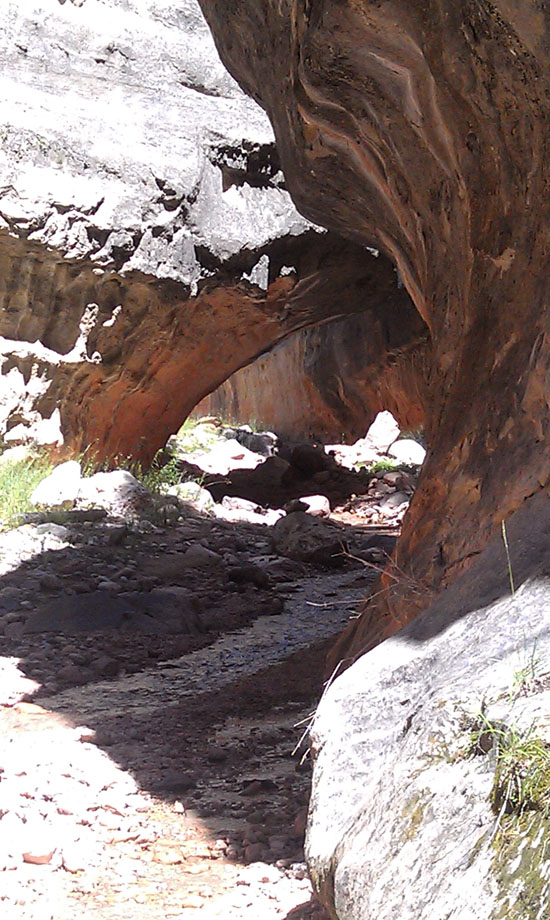 After about 40 minutes (0.6 miles), we arrived at the Junction of Lake Creek (left) and Rattlesnake Creek (right). The boys wanted to go up Rattlesnake Creek first so we headed that way first.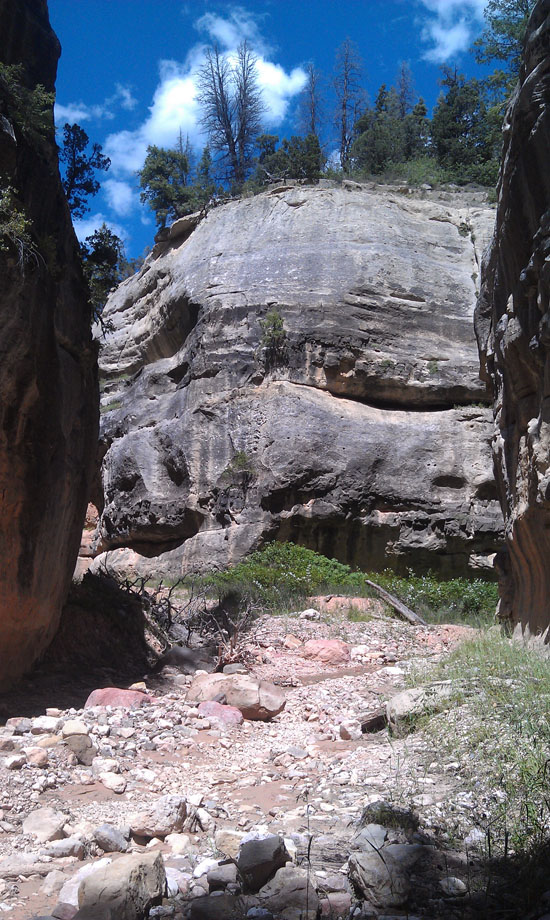 We soon arrived at Rattlesnake Creek Falls, a spectacular 25-foot-tall waterfall.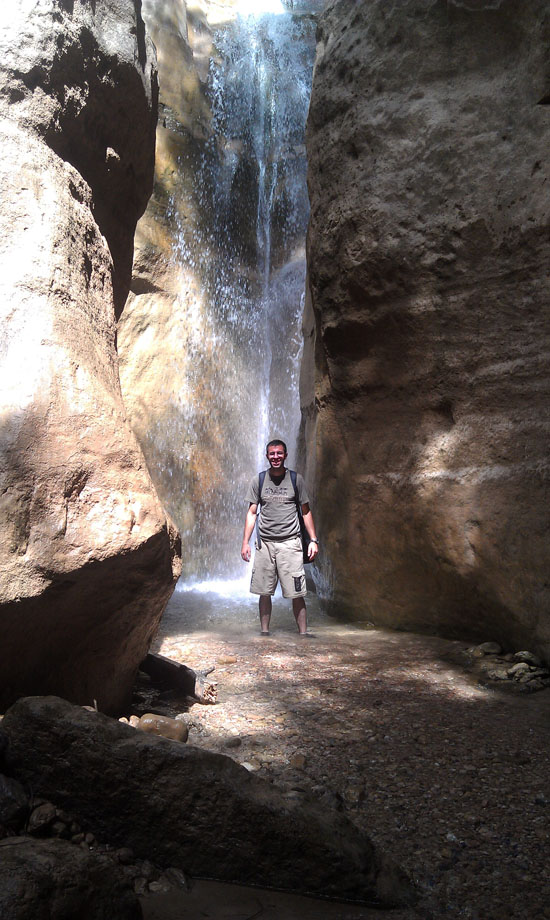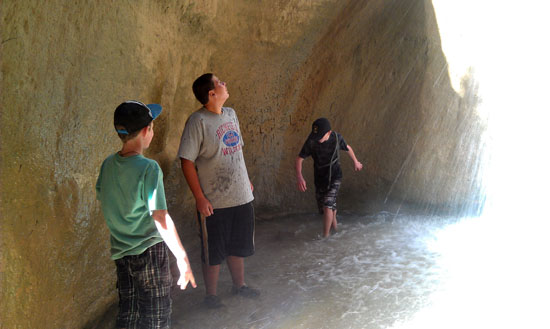 We then had fun standing underneath the waterfall.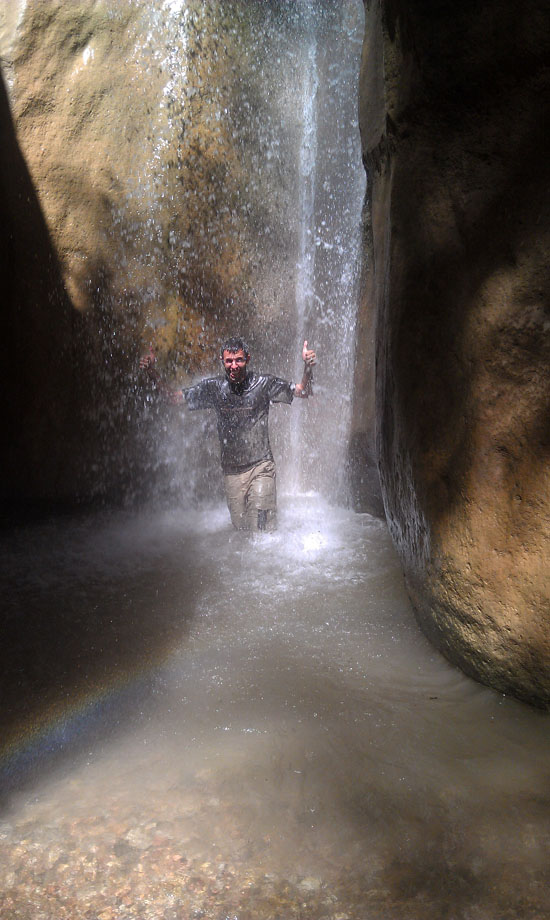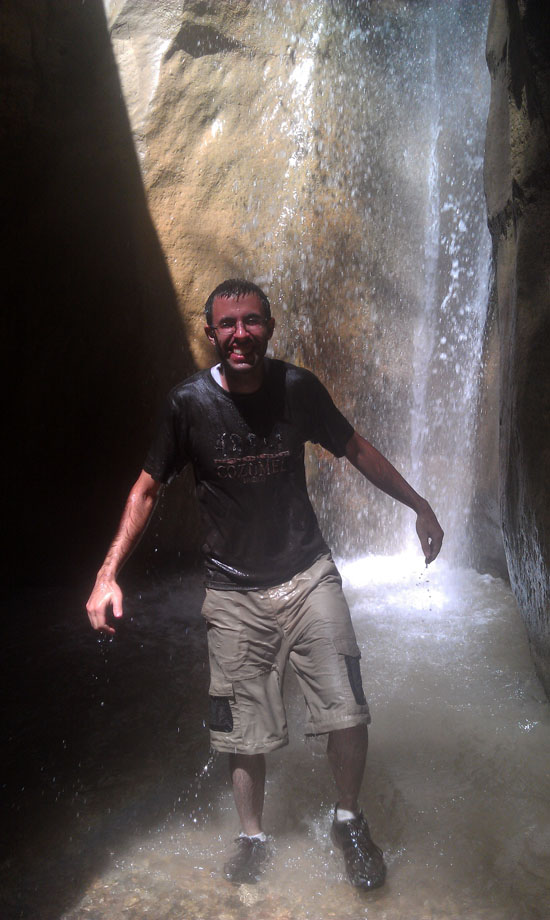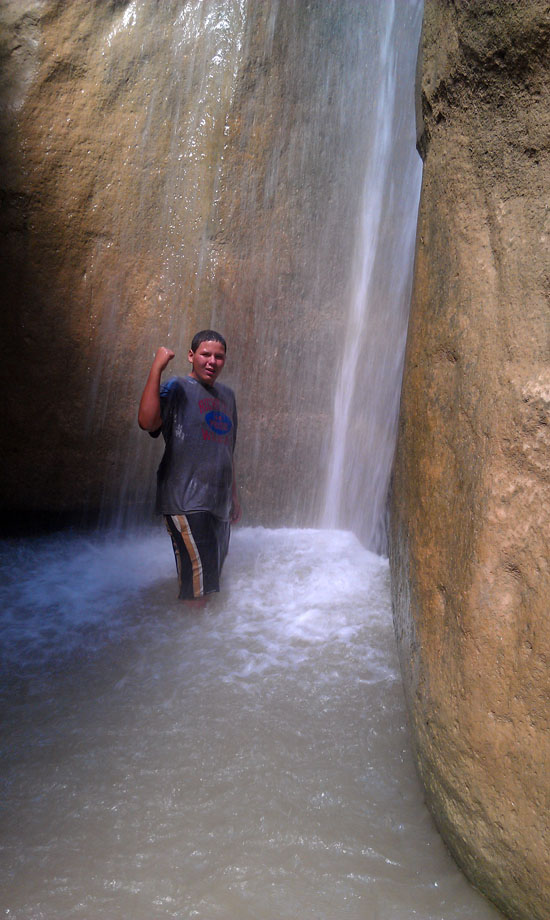 When we had our fill with Rattlesnake Creek Falls, we headed back down canyon then over to Lake Creek Falls. Although lake creek falls doesn't have as much water in it, it is still really cool because the water spills down between some large chockstones. You can walk behind the waterfall into a cave-like area.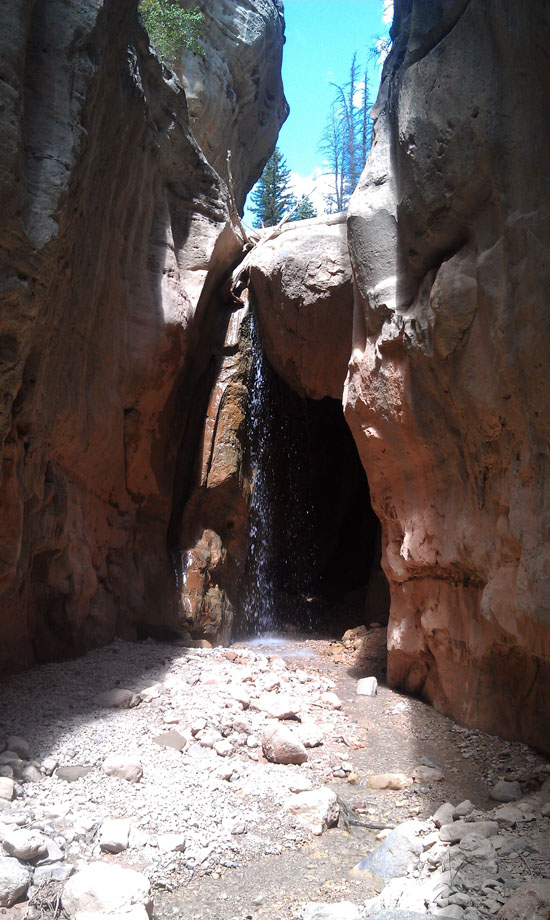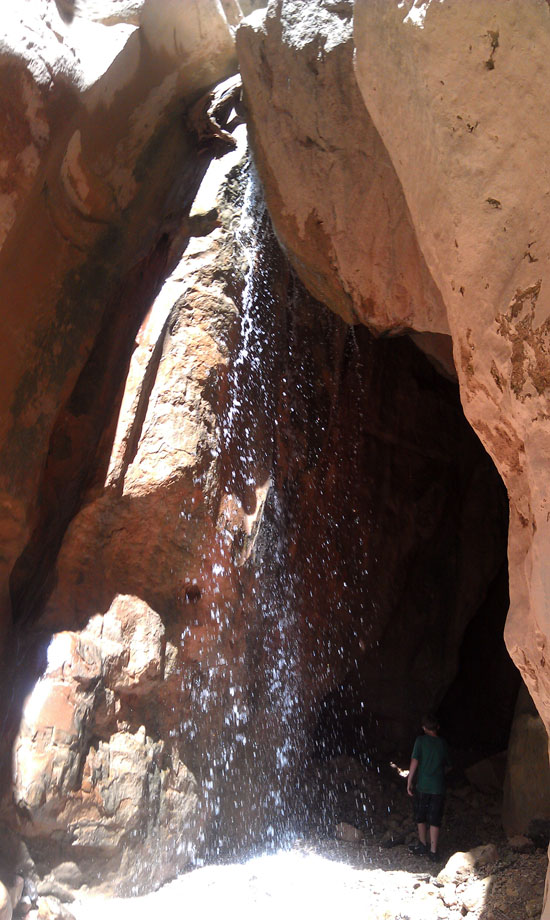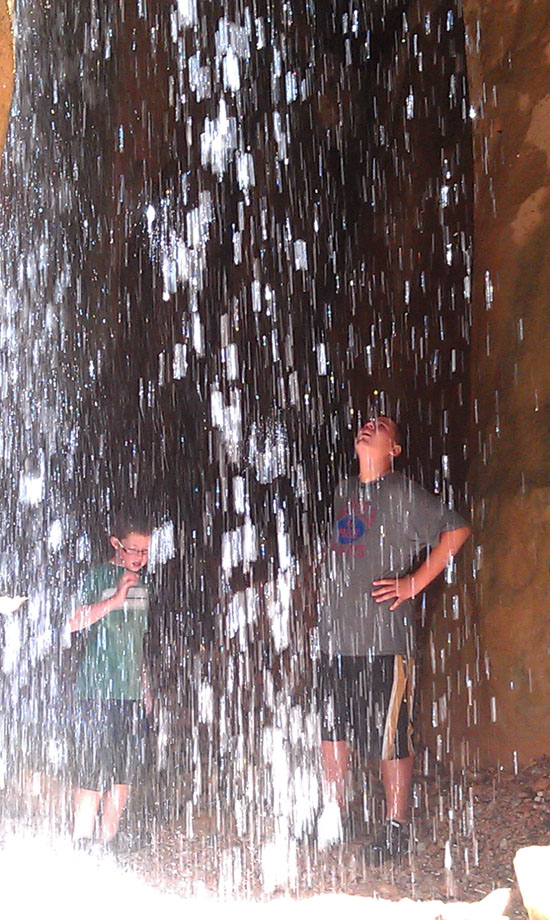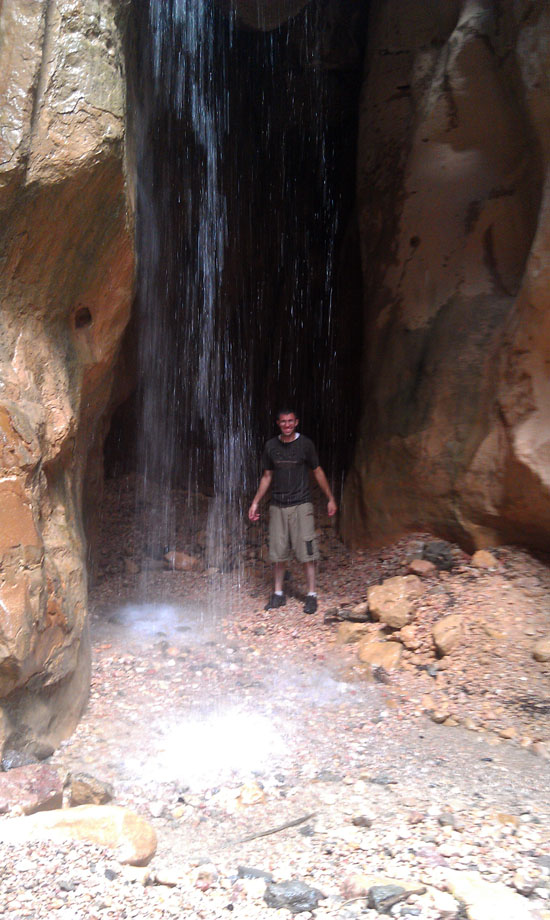 We finished exploring the waterfalls around 3:15 and started making our way back down canyon.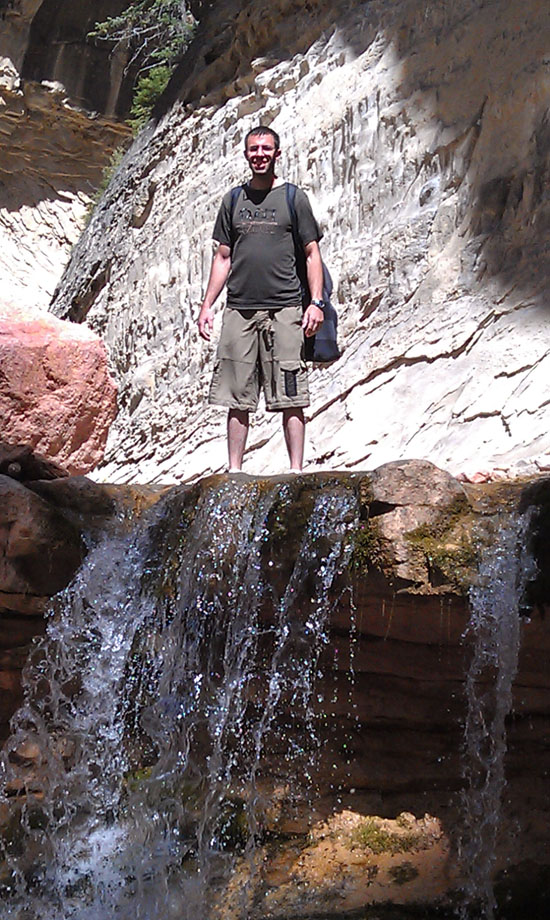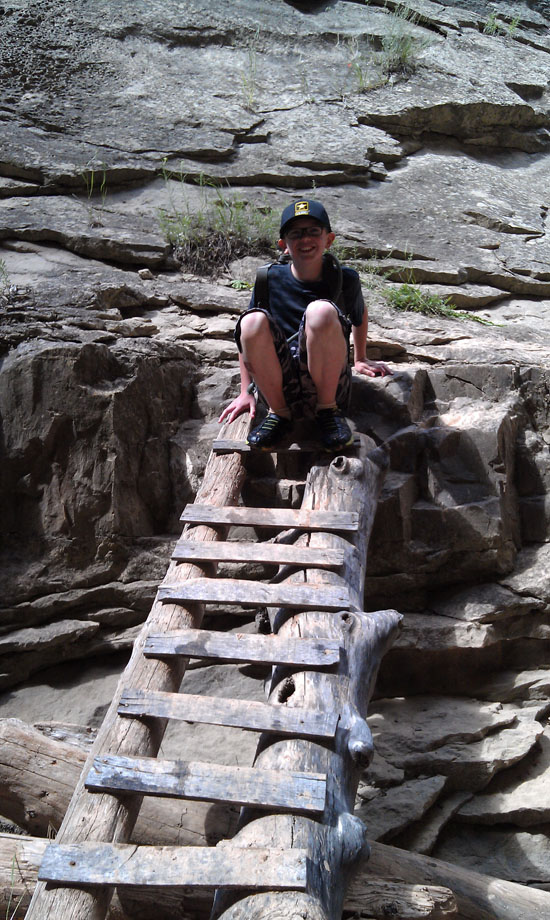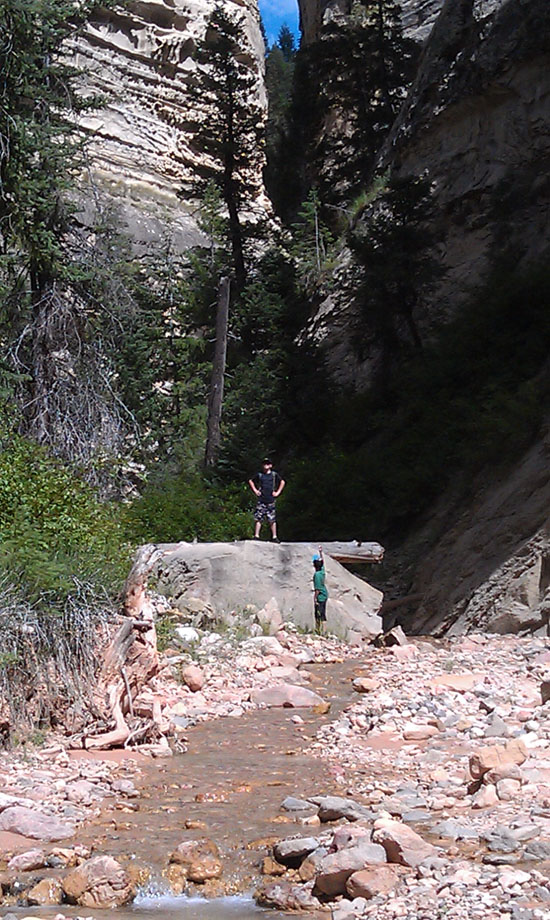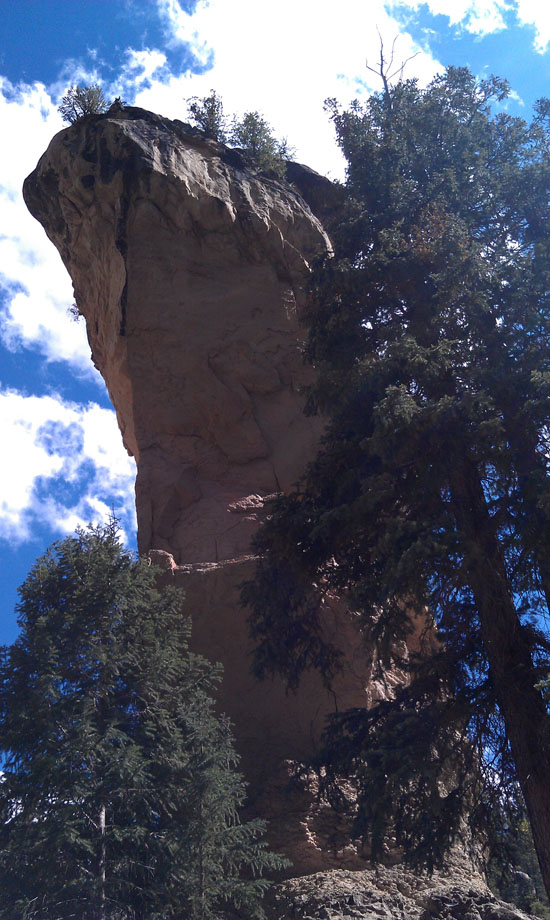 To the east of Tom's Head is another limestone spire. To me, it bears a striking resemblance to Grizzly Peak in Disneyland. Judge for yourself.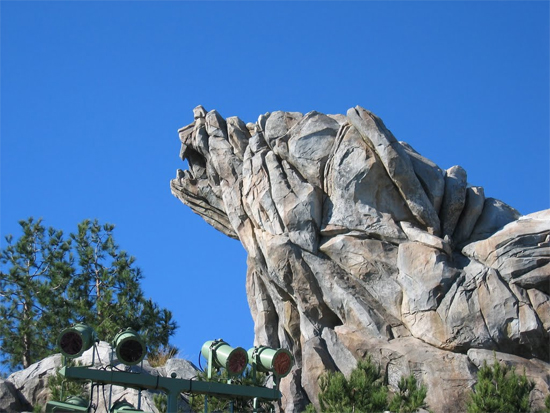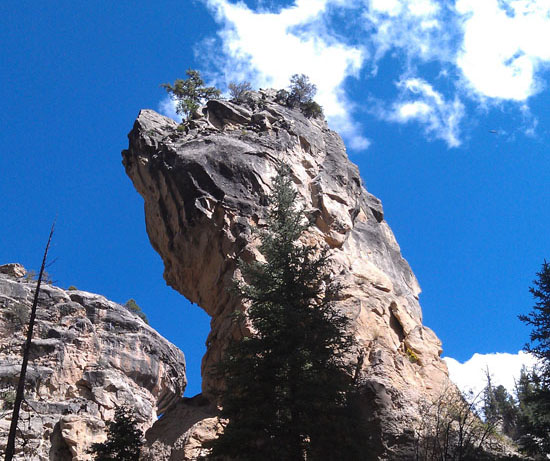 When we got back to the junction where Jake was supposed to be waiting, we couldn't find him anywhere. We didn't worry too much though because he had said that if he got bored, he might start hiking down by himself. So the three boys and I kept on hiking.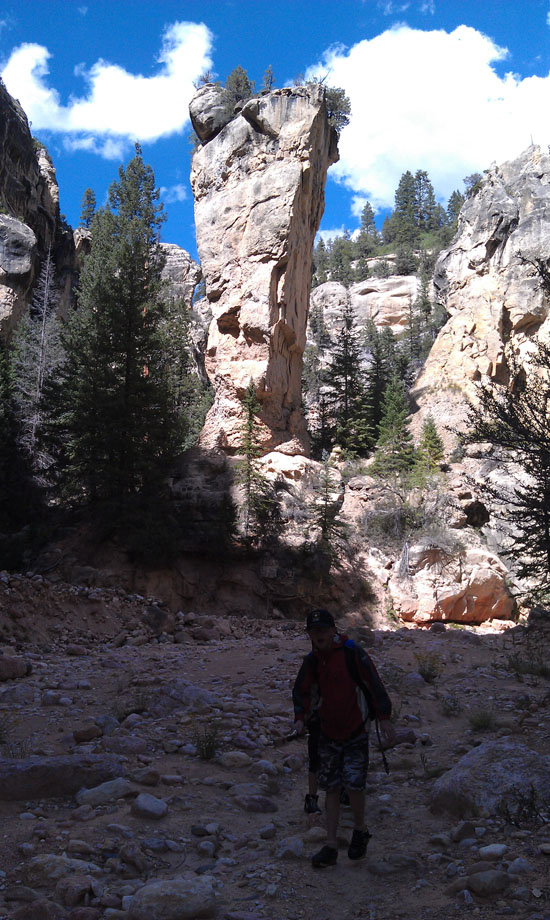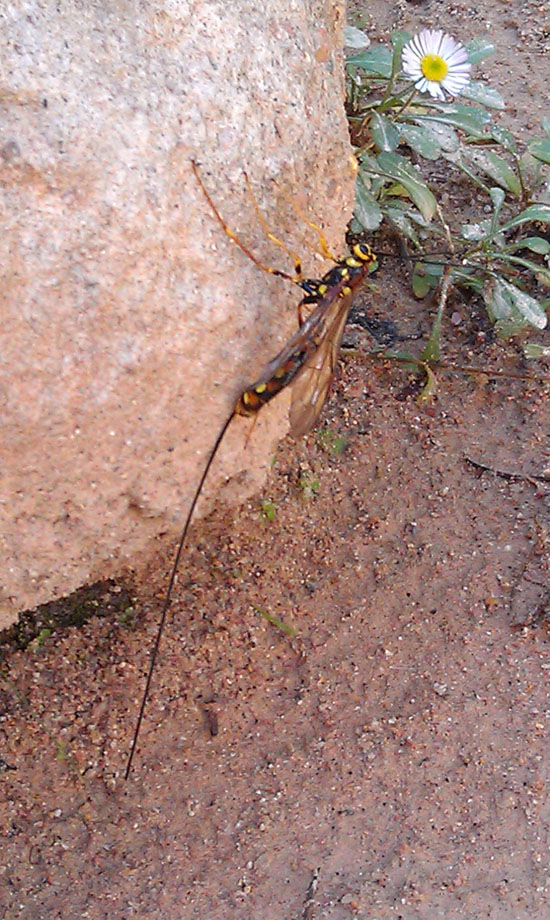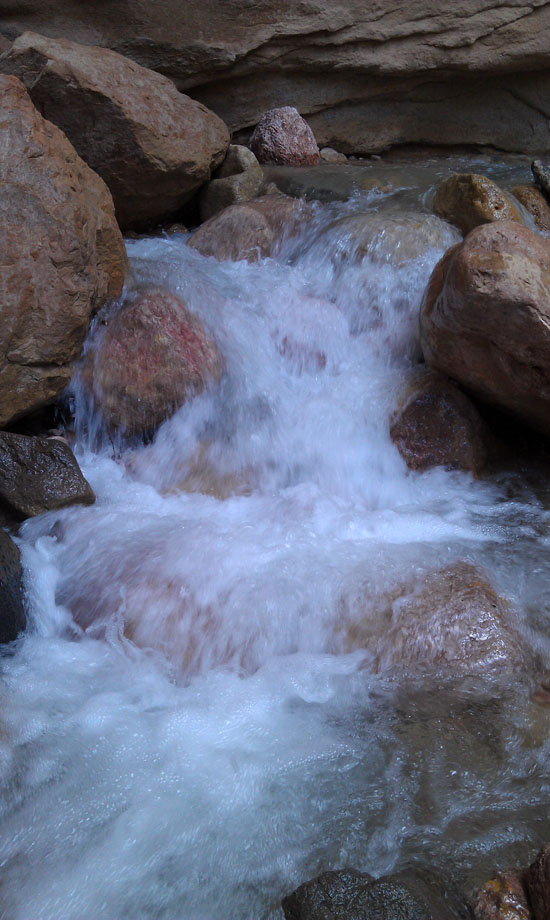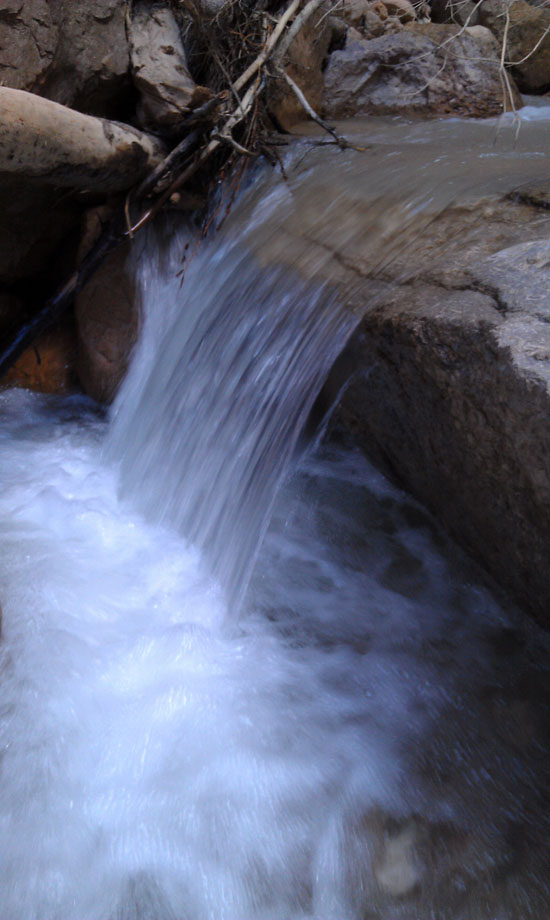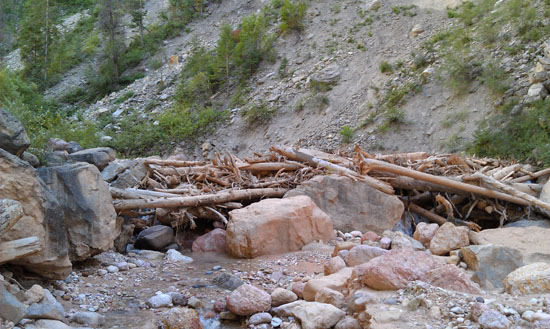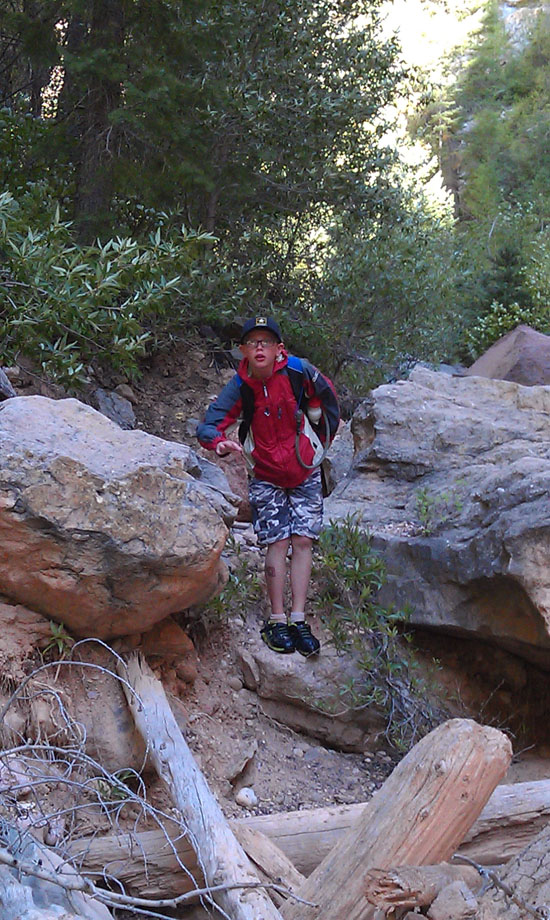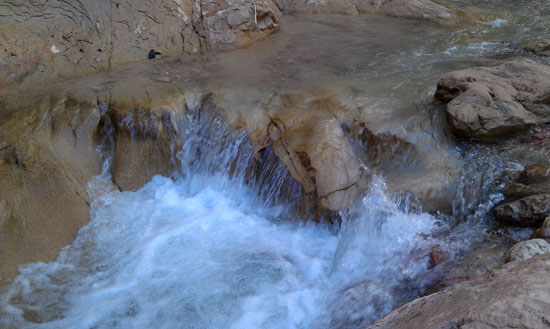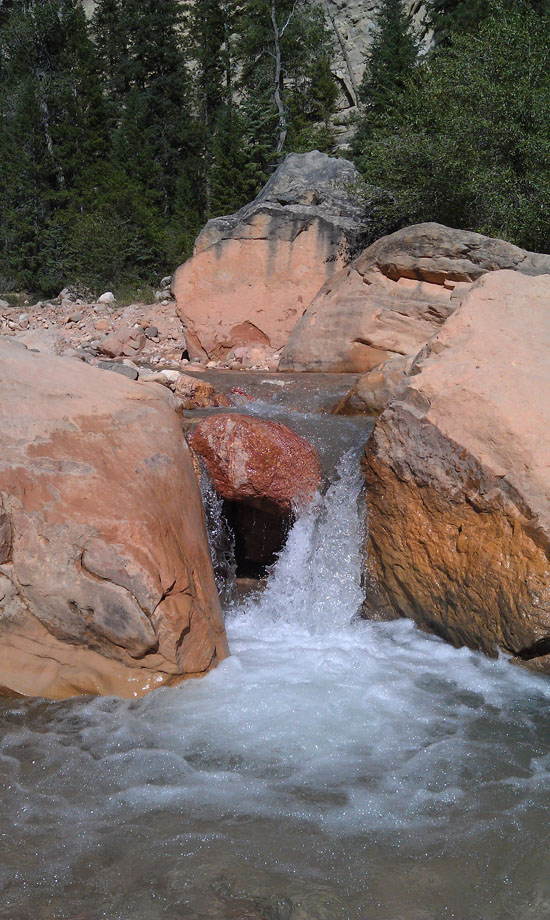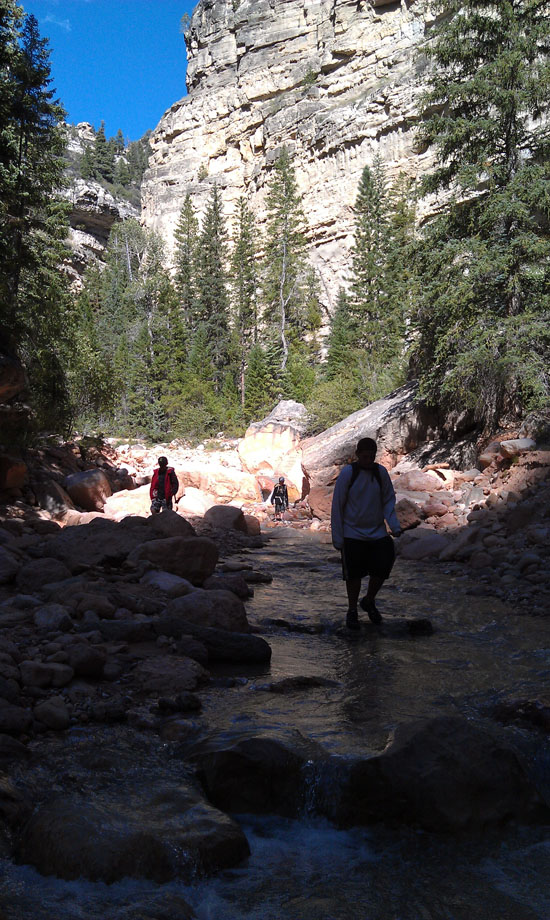 About a mile below Tom's Head was Flanigan Arch (incorrectly spelled Flanagan's Arch). Flanigan Arch sits high in the cliffs on the right (north) side and is only visible from a short stretch of river. This natural bridge is rumored to be about 200 feet wide.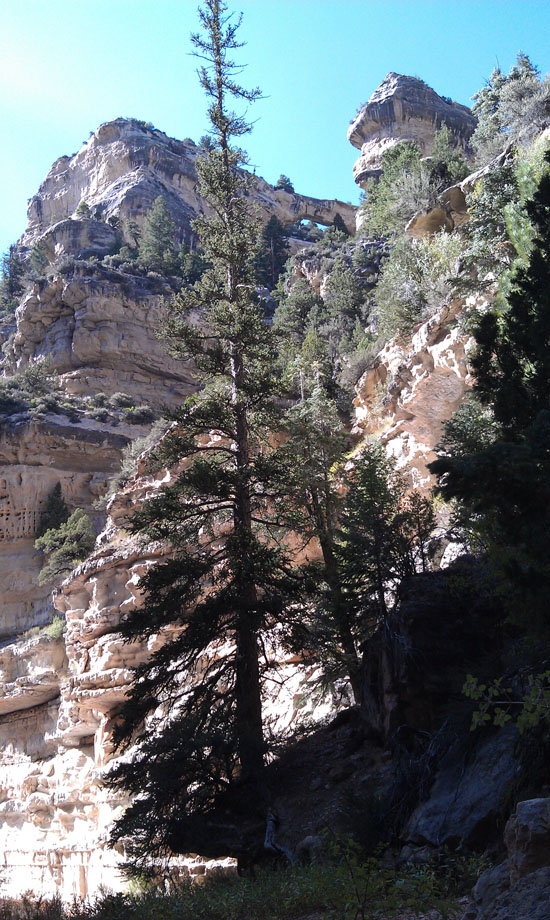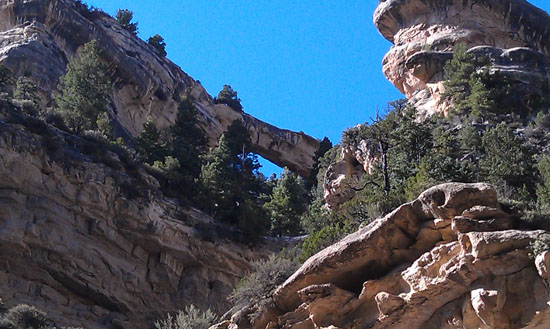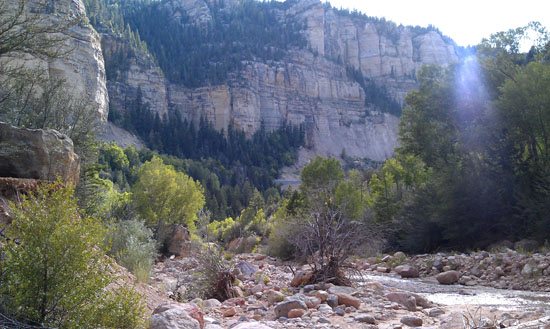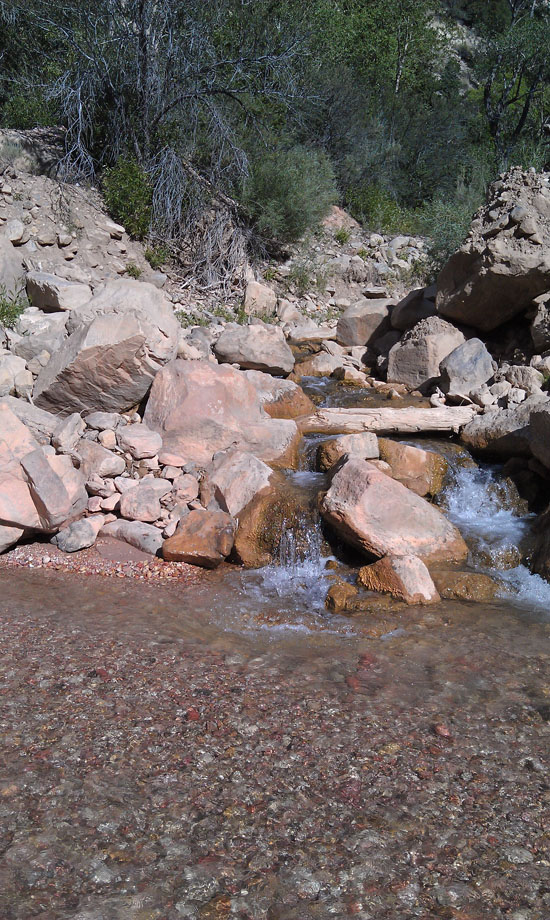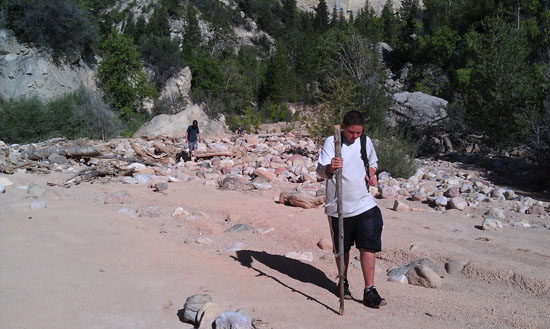 When we came to the land slide area, we walked up the riprapped drainage to the parking area at the top.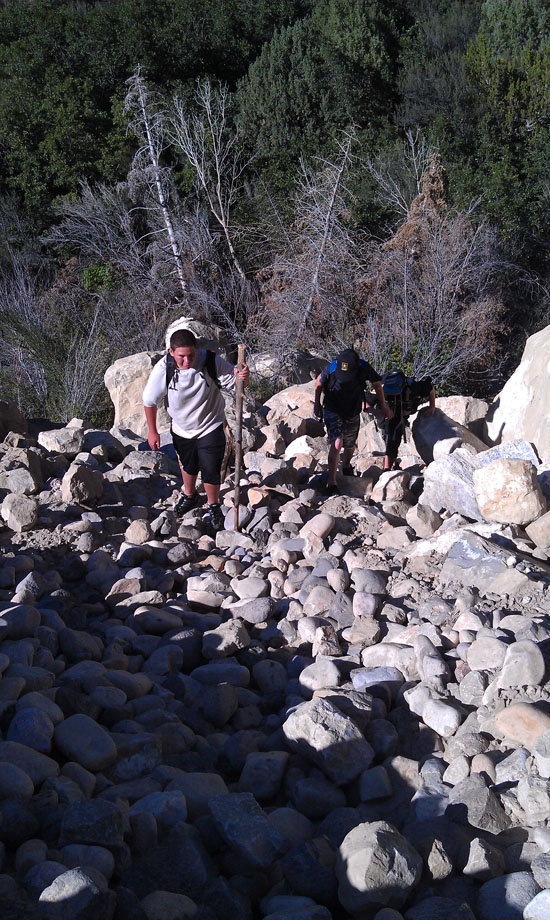 This would have been the perfect place to park, but we were following an old trail guide that said to park further down the canyon. Rather than hike the last mile to our car on the shoulder of a dangerous road, we hitchhiked down instead.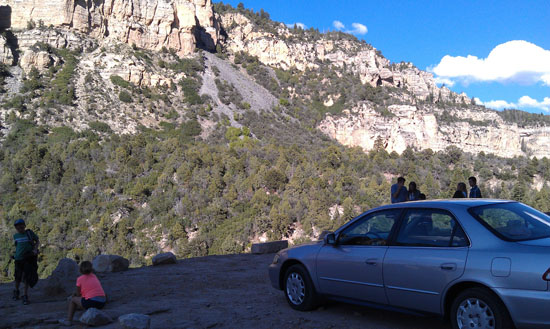 When we finally made it back to the car, Jake was waiting there for us. He had beat us by about half an hour.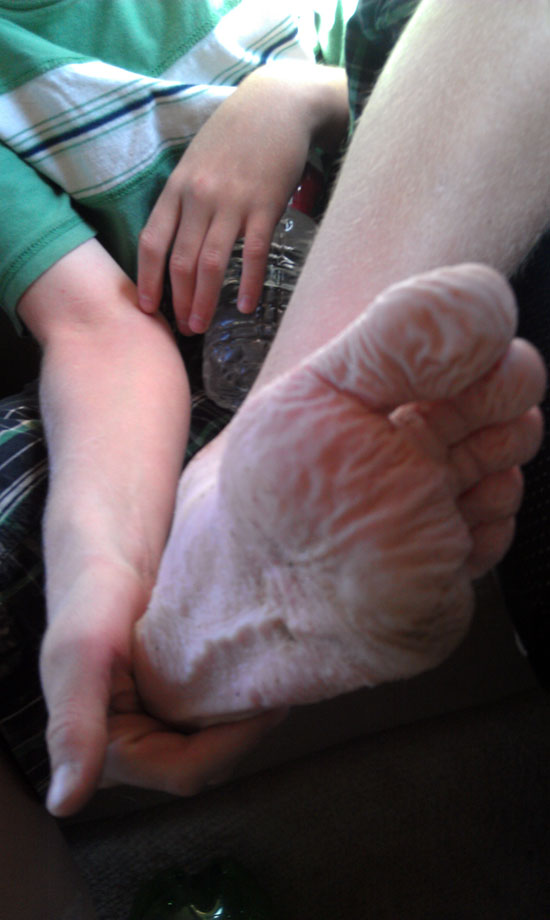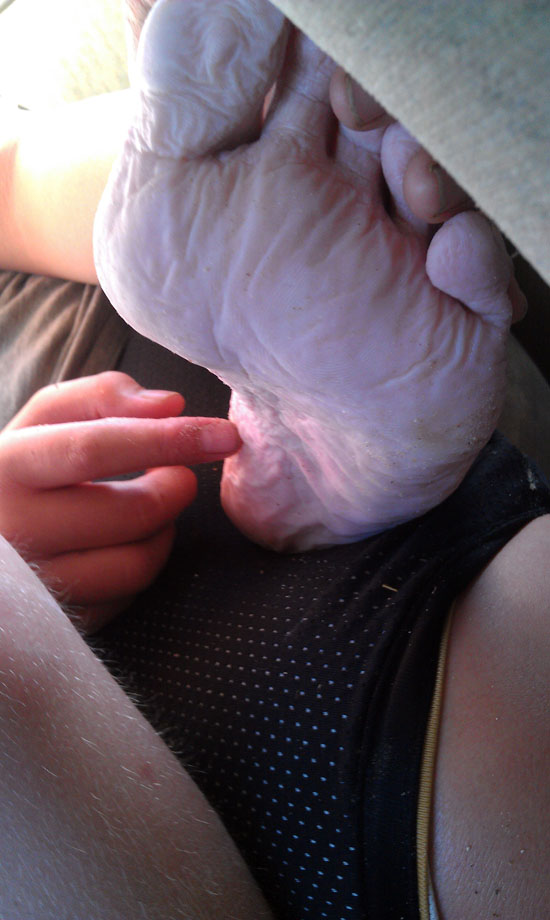 We finished this hike at 6:15 pm, about 9.5 hours (11.25 miles) after we left the Rattlesnake Creek trailhead and about 5 hours (4.6 miles) after starting the Ashdown Gorge portion.
Everyone really enjoyed this hike. It was a lot of fun and very scenic for the whole way. The all-downhill trail made for leisurely hiking, which was perfect for young Scouts. They were worn out by the end of it, but they still had mostly high spirits.
I plan to come back soon with Tara and maybe one or both of our girls.