Gunnison Reservoir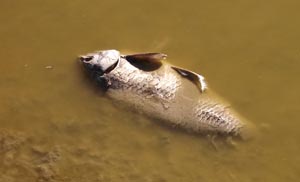 Gunnison Reservoir was really nasty when we went in 2013. They had poisoned all the fish, so were were tons of dead fish all along the shores. The mud was nasty and smelled really bad. And there was no shade anywhere.
Trip Report: September 21, 2013
We took the 11-year-old Scouts to Gunnison Reservoir for a fishing trip. However, when we got there, we discovered that they had drained most of the reservoir so they could poison all the fish. Consequently, the whole reservoir was really gross. There were dead fish everywhere. The mud was thick and deep and it smelled really bad. We ended up going over to Palisade State Park instead.