Overview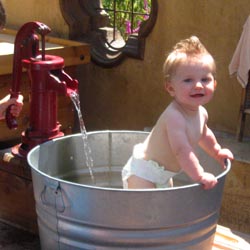 Hype:
The Mormon Battalion Museum in San Diego, CA has some really cool presentations and history of the Mormon Battalion. The free tour leads you on a virtual march covering 2,000 miles of LDS history. Watch videos, try on an army uniform, and mine for gold.
Fees: None
Recommended Ages:
0-3
4-11
12-19
20-49
50-69
70+
Recommended Months to Visit:
Jan
Feb
Mar
Apr
May
Jun
Jul
Aug
Sep
Oct
Nov
Dec
Links: lds.orgsandiego.com
Location
Closest City or Region: 2510 Juan St. San Diego, California
Coordinates: 32.754177, -117.193970
June 4, 2011 Trip Report
By Jeremy Dye
Trip Members
Jeremy Dye, Tara Dye, Savannah Dye, Burnett Extended Family,
Story
We stopped at the Mormon Battalion Museum during our 2011 Burnett Family Reunion. They had some really cool interactive video presentations, and we had a fun time mining for gold.
Pictures