Overview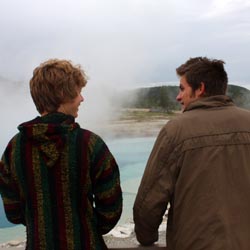 Hype:
Biscuit Basin in the Old Faithful Area is home to Sapphire Pool, Mustard Spring, Avoca Spring, Shell Geyser, Jewel Geyser, and several other geothermal features.
Trail Condition: Class 0 (Trail is paved. No elevation gain.)
Time: 25 minutes
Length: 0.6 miles round trip
Fees: Entrance fee
Recommended Ages:
0-3
4-11
12-19
20-49
50-69
70+
Recommended Months to Visit:
Jan
Feb
Mar
Apr
May
Jun
Jul
Aug
Sep
Oct
Nov
Dec
Route
Biscuit Basin is part of Upper Geyser Basin.
The following information was taken from the Old Faithful Area Trail Guide

, which is available at the Old Faithful visitor center.
Three miles (5 km) north of Old Faithful is Biscuit Basin, named for the unusual biscuit-like deposits that used to surround Sapphire Pool. Following the 1959 Hebgen Lake Earthquake, Sapphire erupted, and the "biscuits" were blown away; it last erupted in 1991. Sapphire remains one of the most beautiful blue pools in the park. Mustard Spring provides a bright color contrast, and Jewel Geyser adds excitement as it erupts every 7-10 minutes.
Maps
Closest City or Region: Yellowstone National Park, Wyoming
Coordinates: 44.485050, -110.852547
Interactive Guide Map