Overview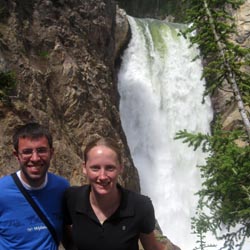 Hype:
Uncle Tom's trail is a quick but strenuous hike that ends near the base of Lower Falls in Yellowstone National Park.
Trail Condition: Class 1 (Trail is either paved or gravel. Navigation skills are not needed because there is only one trail or because there are signs. Elevation gains are gradual or there are stairs.)
Time: 20 minutes
Length: 0.6 miles round trip
Fees: Entrance fee
Recommended Ages:
0-3
4-11
12-19
20-49
50-69
70+
Recommended Months to Visit:
Jan
Feb
Mar
Apr
May
Jun
Jul
Aug
Sep
Oct
Nov
Dec
Route
The following information was taken from the Canyon Area Trail Guide, which is available at several trailheads in the Canyon Area.
For an unparalleled canyon and waterfall experience, take a deep breath and descent this trail. A series of paved inclines and more than 300 steps lead you about 500 feet down into the canyon. Your destination is a platform from which you can see, hear, and feel the power of the Lower Falls. This strenuous trail is not recommended for people with heart, lung, or other health conditions. Much of the walk is constructed of perforated steel sheeting, so you should wear comfortable, flat-heeled walking shoes. Also watch out for ice in the early morning or in the spring or fall. Closed in winter and subject to closures in the spring and fall due to snow, ice, or other conditions.
Maps
Closest City or Region: Yellowstone National Park, Wyoming
Coordinates: 44.715393, -110.496277
Interactive Guide Map