Primitive Camping Along Temple Mountain Road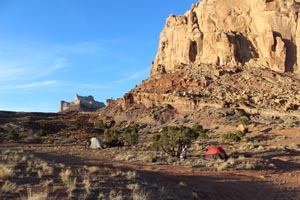 If you're looking for a good spot to camp near Goblin Valley, there are several places to camp along Temple Mountain Road. The area also some cool Indian pictographs and some miner's ruins nearby.
Trip Report: March 28, 2014
For our Scout camp out to Goblin Valley, we camped along Temple Mountain Road. There were quite a few RVs and other people camping, so most of the spots were filled. We found the camp site very nice with a beautiful sunset and sunrise against the towering cliffs.
We didn't realize it when we were there, but apparently the Temple Mountain Pictographs are just up the rode from where we camped. Also, farther down the road a ways is an abandoned stone cabin and a closed uranium mine.