Dianas Throne Canyon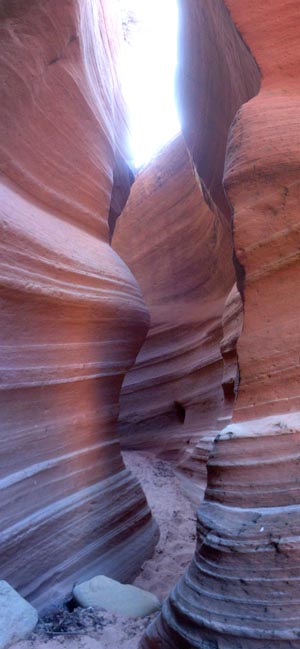 Dianas Throne Canyon is a very fun semi-technical slot canyon between Mt Carmel Junction and Kanab, Utah. The approach is very quick, and the canyon is very tight and photogenic.
This canyon is accessible to all vehicles. Parking is on the shoulder of Highway 89. Some navigation skills are required as there is no trail. Hike across country until you reach the top of the Dianas Throne Canyon. Rappel, handline, or downclimb the first drop then hike through the rest of the canyon. After you exit the narrow section of the canyon, continue to follow the wash down until you reach the next big drainage coming in on the left (LDC). Follow this drainage up and out and back to your car.
Interactive Map

Download KML file to view in Google Earth.
Waypoints
| | | | |
| --- | --- | --- | --- |
| Waypoint | Latitude | Longitude | Description |
| PARK | -112.6610071291934 | 37.1946703522874 | Park |
| JUNC1 | -112.6588774738499 | 37.19525549865297 | Junction #1 |
| DTTOP | -112.6573428060919 | 37.19765849868244 | Dianas Throne Top |
| R1 | -112.6576482943366 | 37.19756385613957 | Rappel #1, 20 ft off a deadman anchor. Could handline or possibly downclimb. An 80-foot rope is required because the anchor is up canyon a ways. |
| DTBOT | -112.6583757459501 | 37.19804219177924 | Dianas Throne Bottom |
| JUNC2 | -112.6582080340986 | 37.19954685014929 | Junction #2 |
| SC1 | -112.6576437791967 | 37.19905969438788 | Side Canyon #1 |
| TURN1 | -112.6612627338347 | 37.20063050506222 | Turn #1 |
Printable Map
Trip Report: October 10, 2012
Diana's Throne Canyon at EveryTrail

We decided to explore Dianas Throne Canyon on our way to Lake Powell. I found the canyon on Average Joe Road Trips, but I didn't want to purchase the guide, so we did the canyon with basically no beta. I had read that the canyon was pretty easy but that it may have some rappels near the top. So we decided to explore the canyon from the bottom.
On the trip were Jeremy, Tara, Savannah (age 2), Madilyn (age 6 weeks), Ondylyn, and Jaron.
We parked on the shoulder of Highway 89 at 37°11'40.81"N, 112°39'39.63"W, 3 miles southeast of Mt Carmel Junction, Utah.
We then hiked roughly north across country until we dropped into a drainage.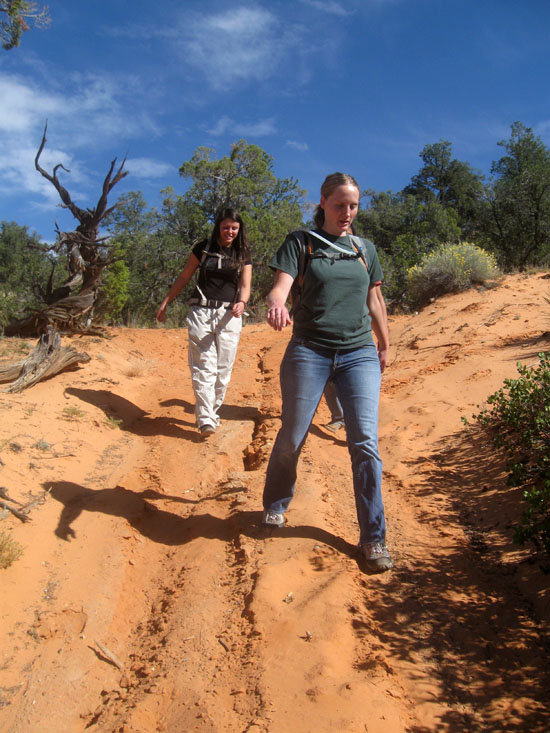 We followed the drainage to the wash.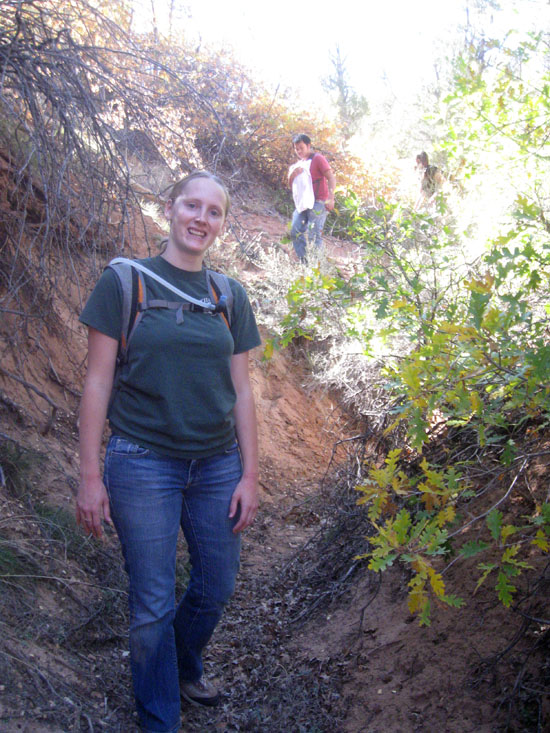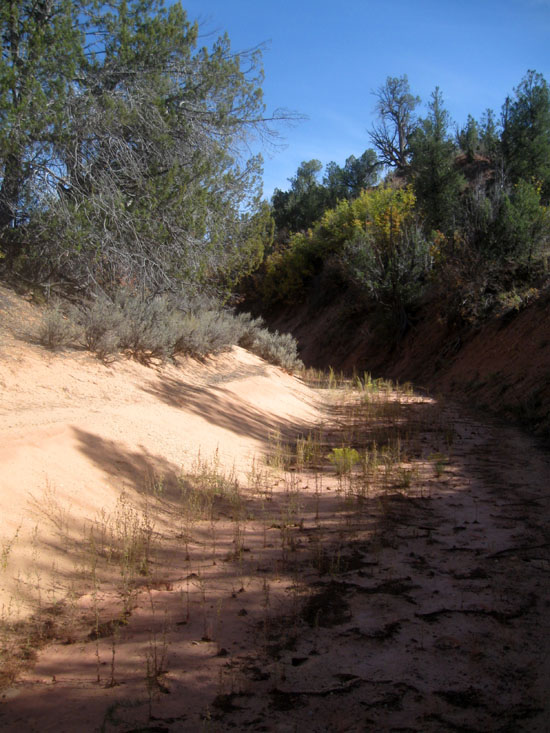 Then we started hiking up the wash.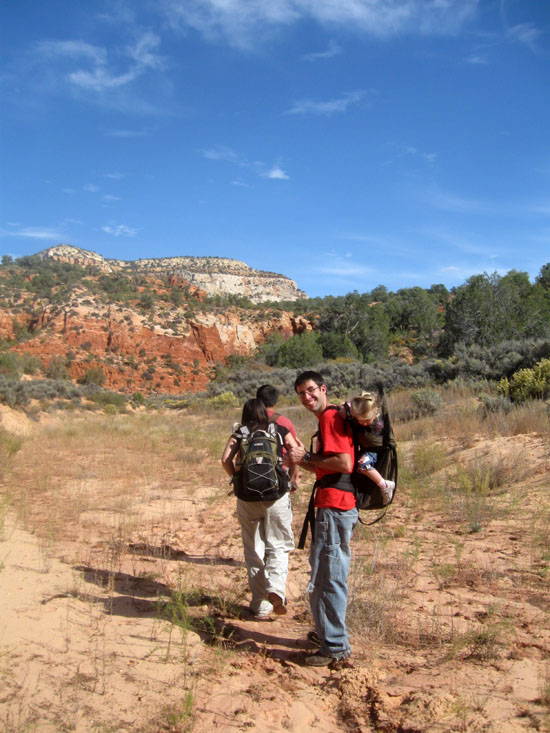 We explored a side cayon that was really cool.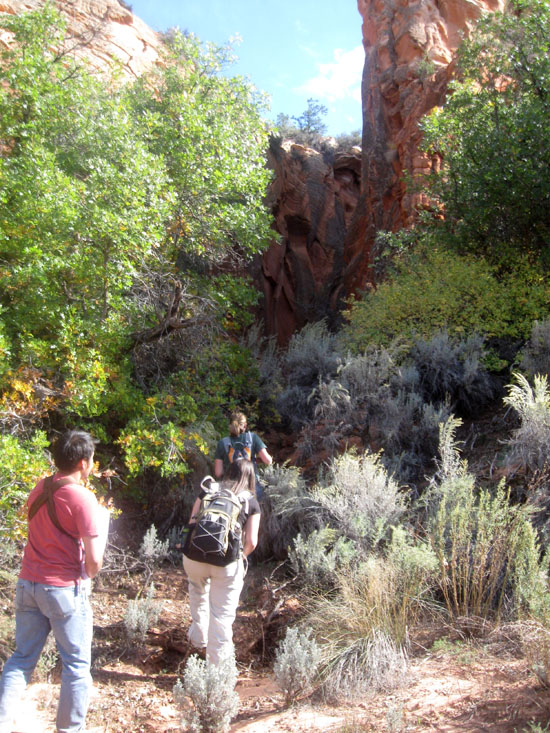 Tara had to nurse Madi, so the rest of us killed some time playing on the rocks.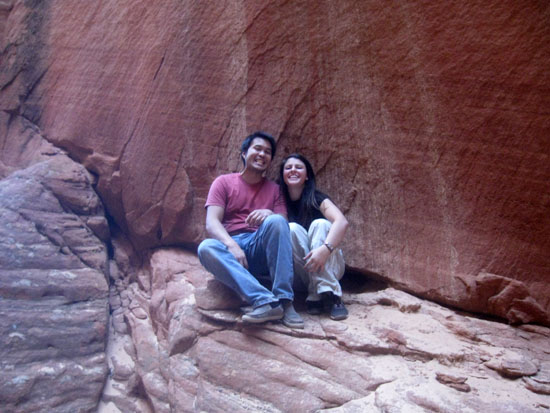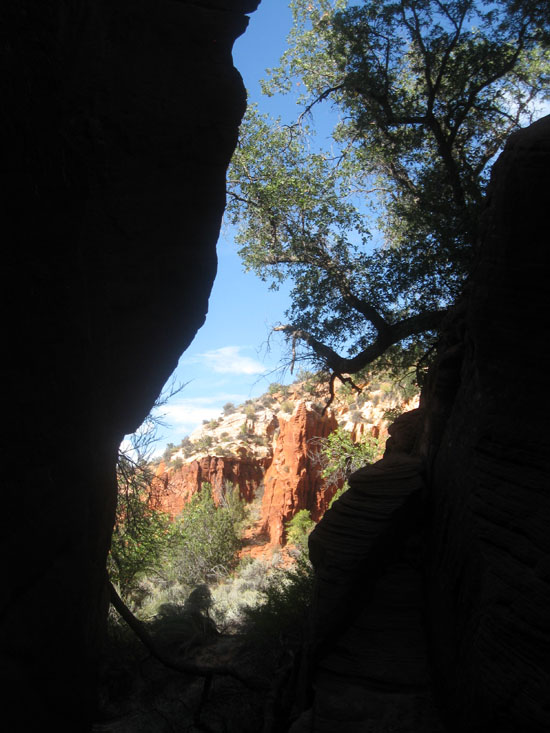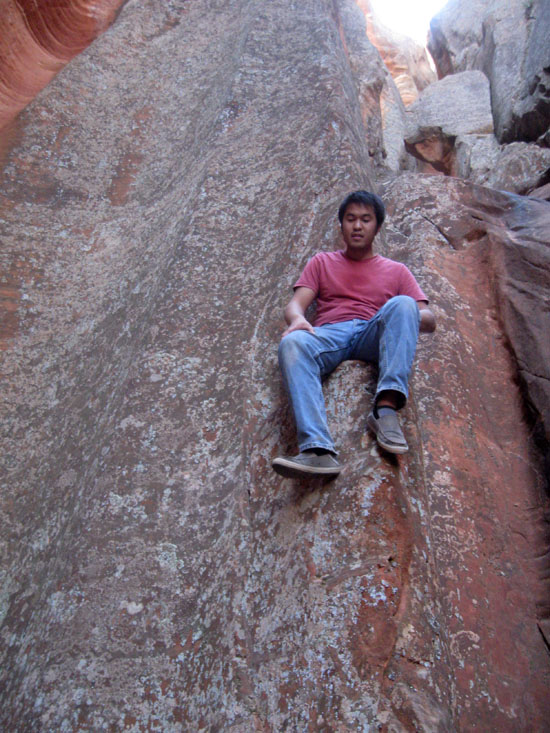 The bottom of Dianas Throne Canyon (37°11'52.95"N, 112°39'30.15"W) is very impressive. The slot canyon ends very abruptly.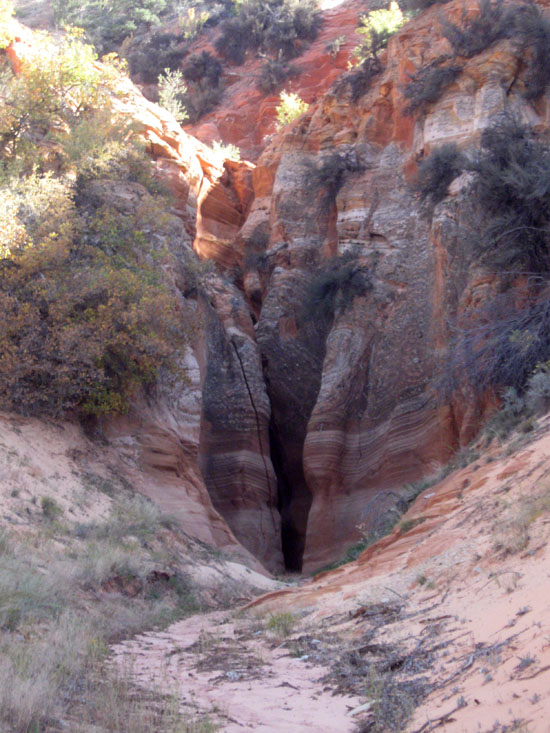 Us at the bottom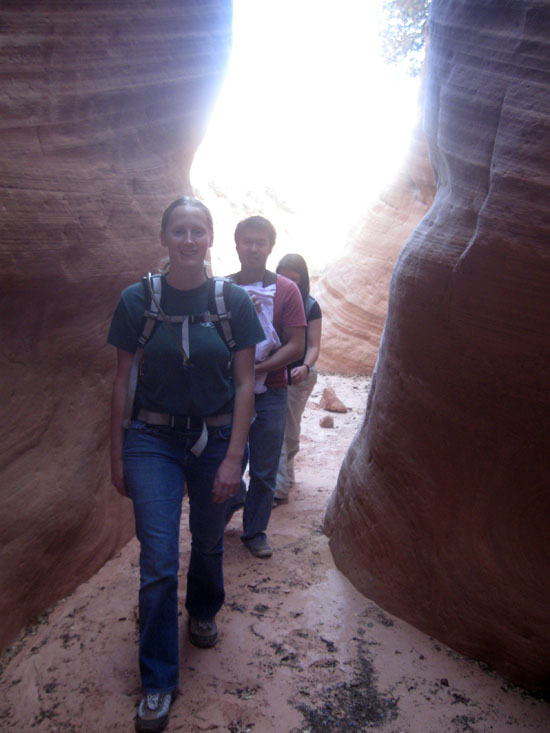 We worked our way up canyon. There were several small climbs, but nothing too difficult.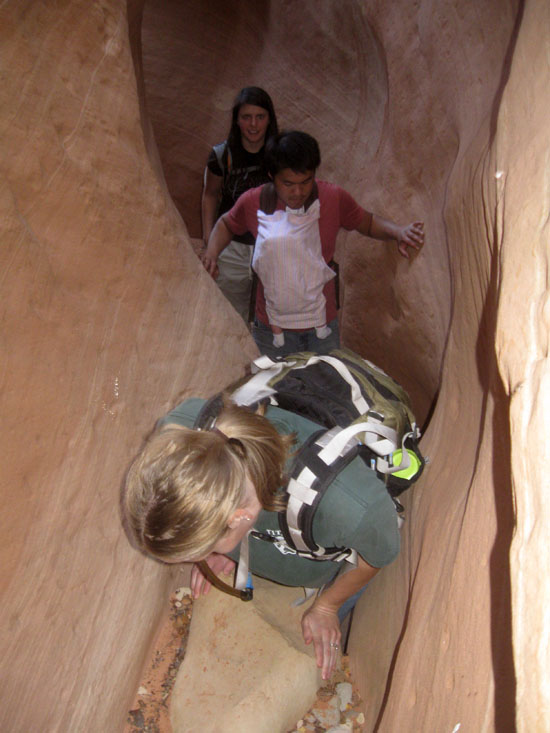 Typical view in the slot canyon.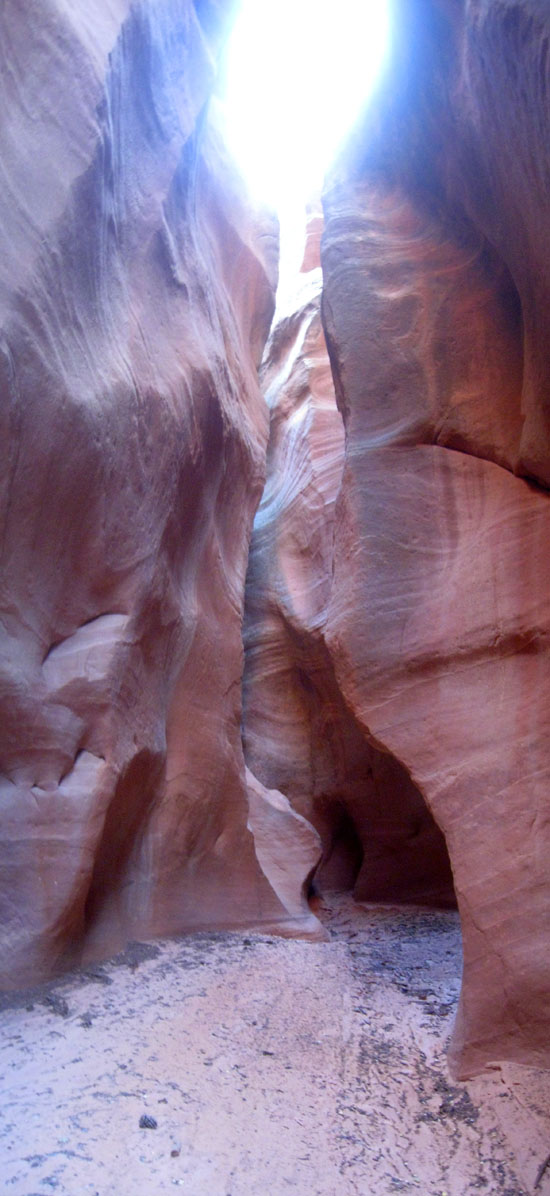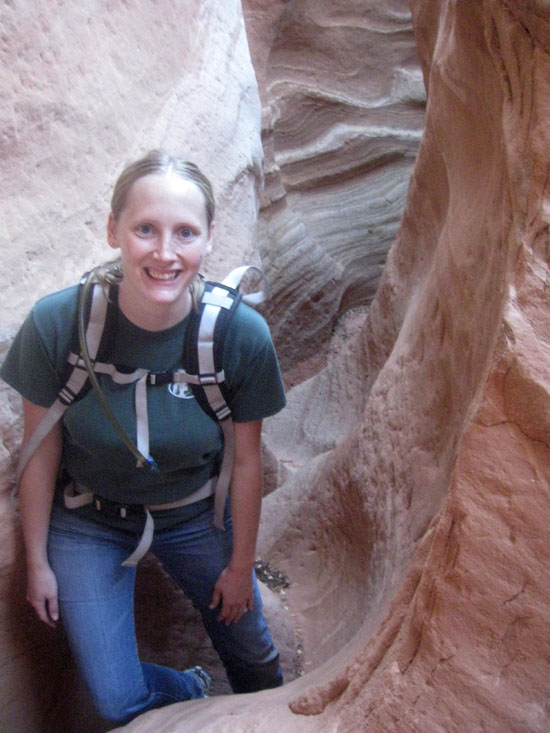 This next obstacle was mildly difficult by yourself but quite easy with a boost.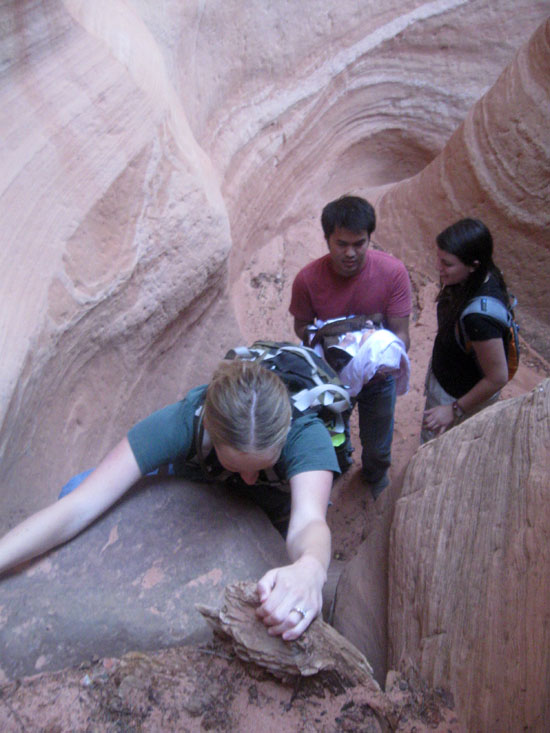 Family picture...Madi's face is priceless!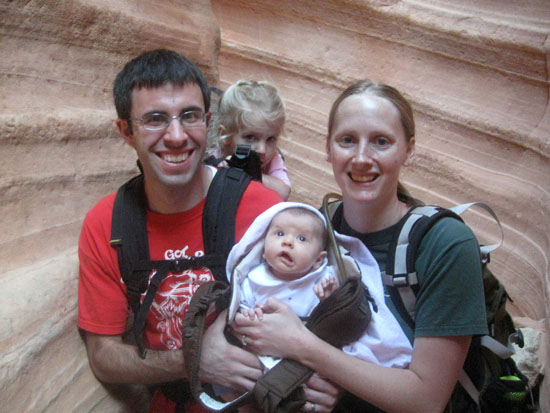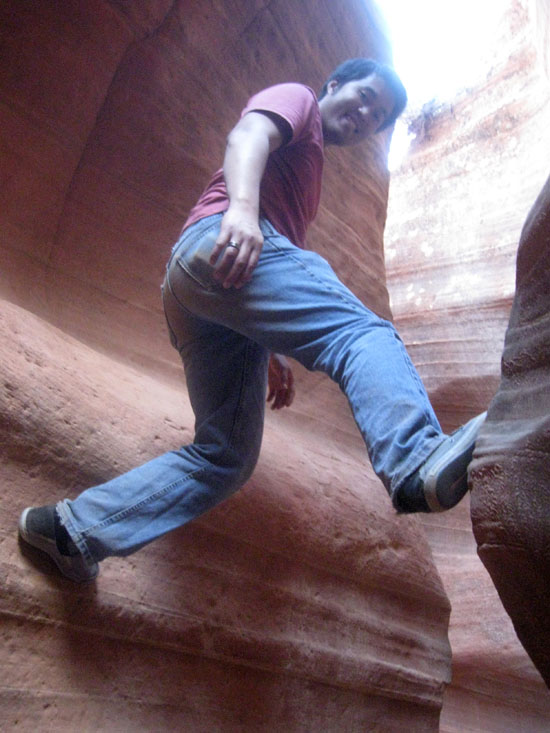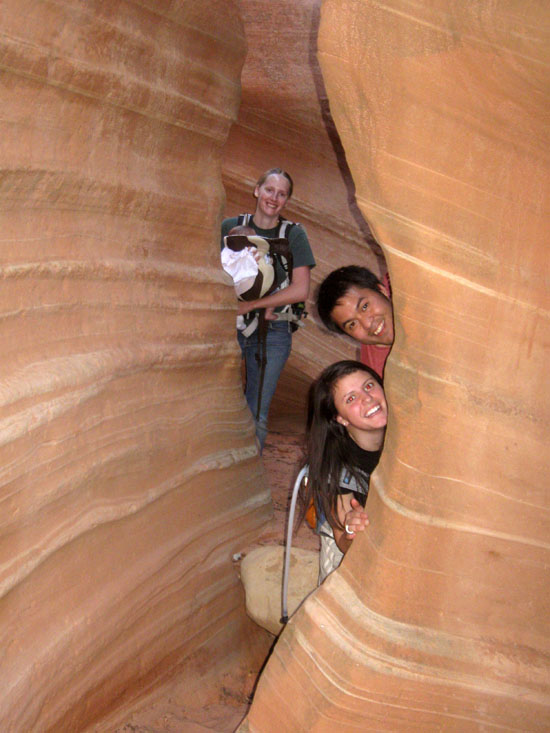 More slot canyon pictures in Dianas Throne Canyon.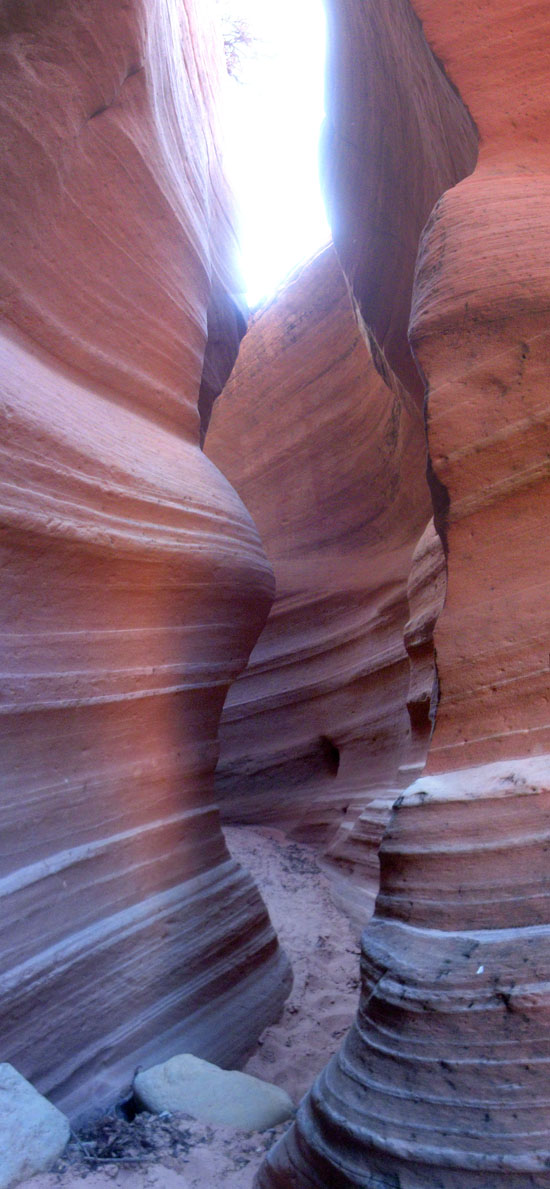 I love the red and white striped sandstone.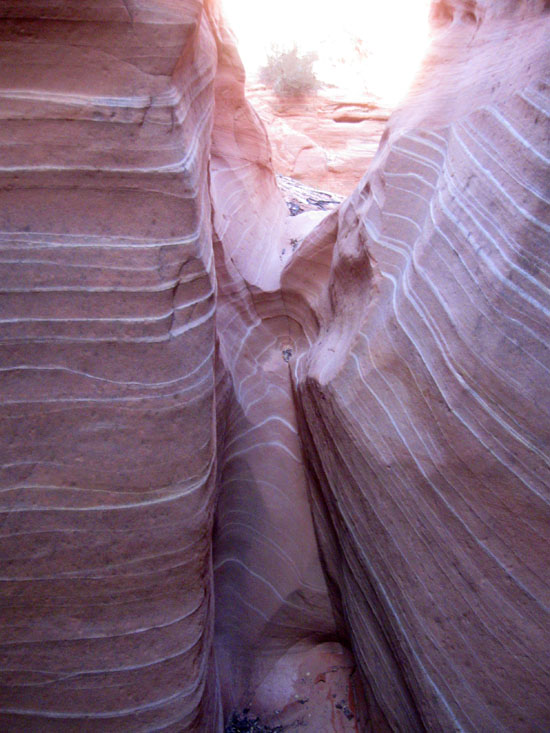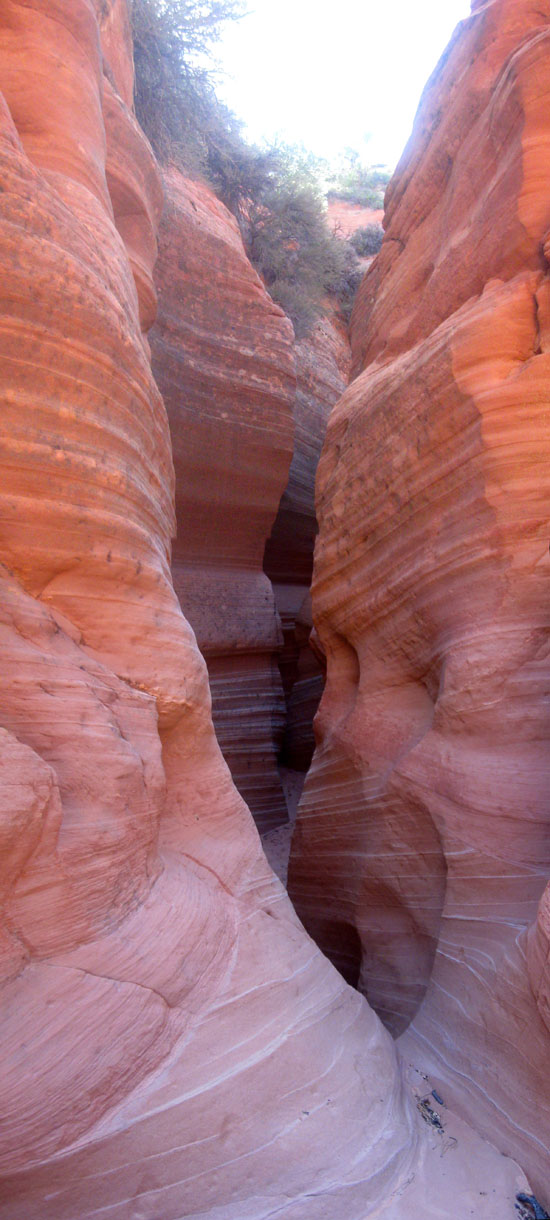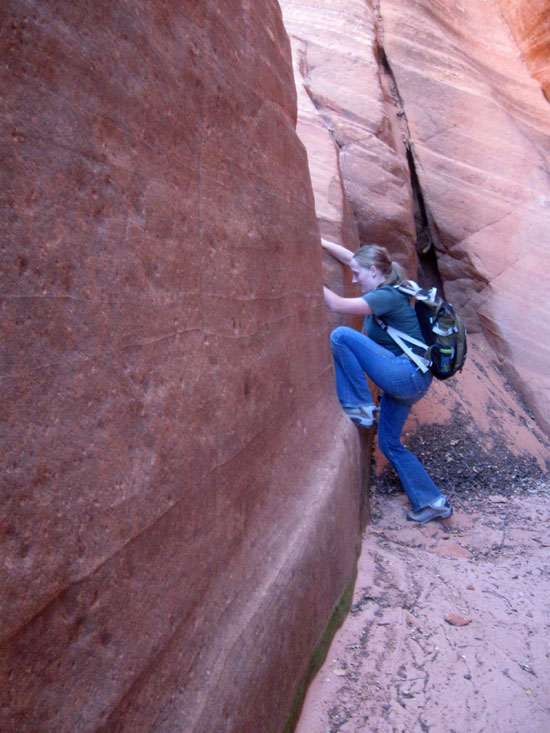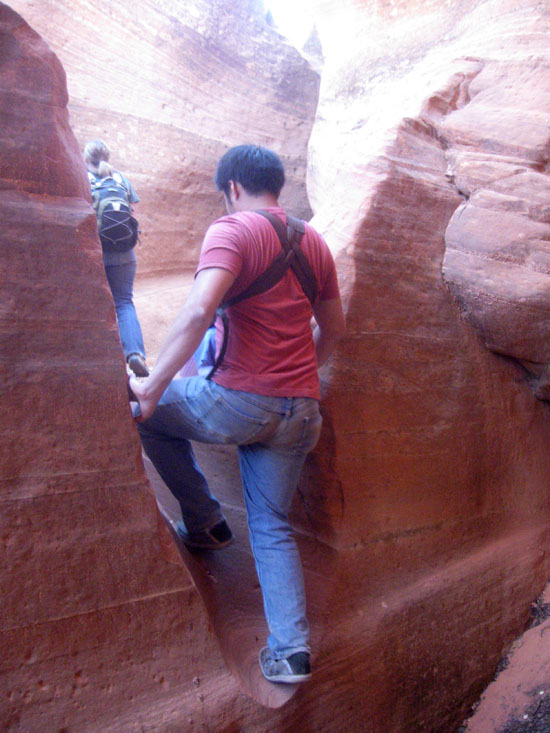 The last obstacle in the canyon was actually fairly difficult. I had to leave the baby carrier (and Savannah) at the bottom while I climbed up.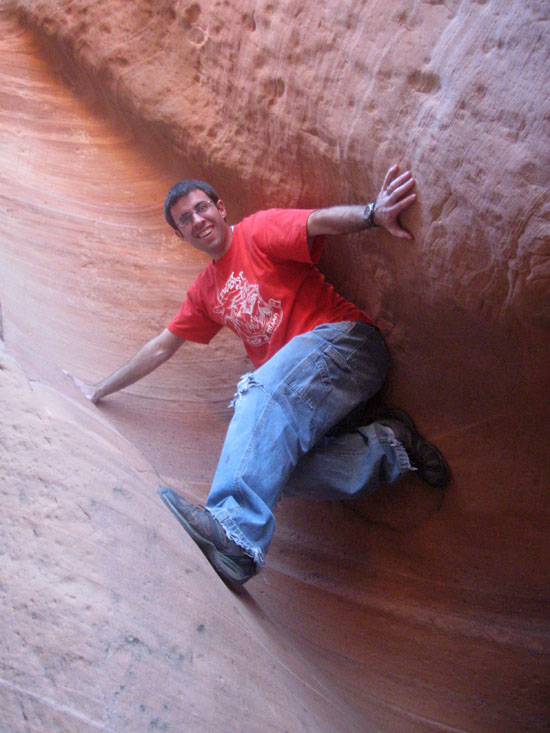 At the top, I tied a piece of webbing around my knee and lowered it down.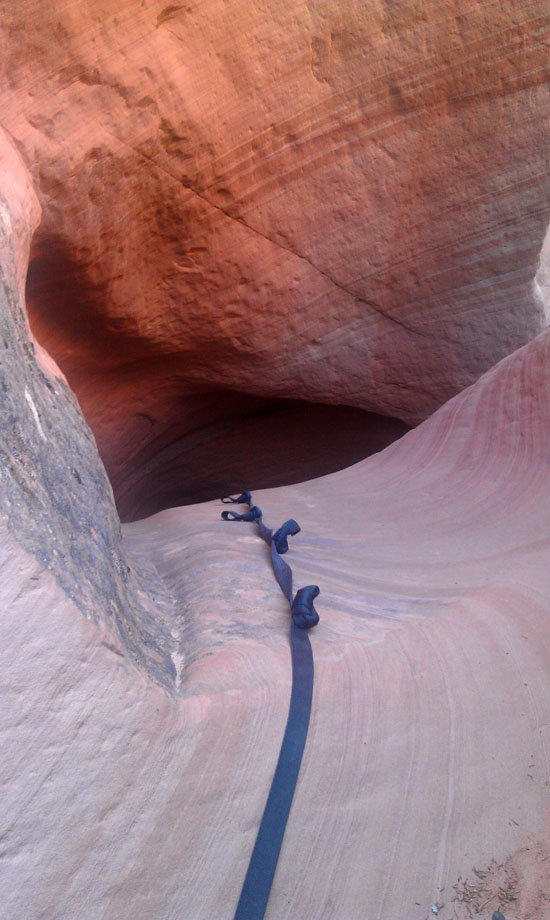 Ondy brought Madi up.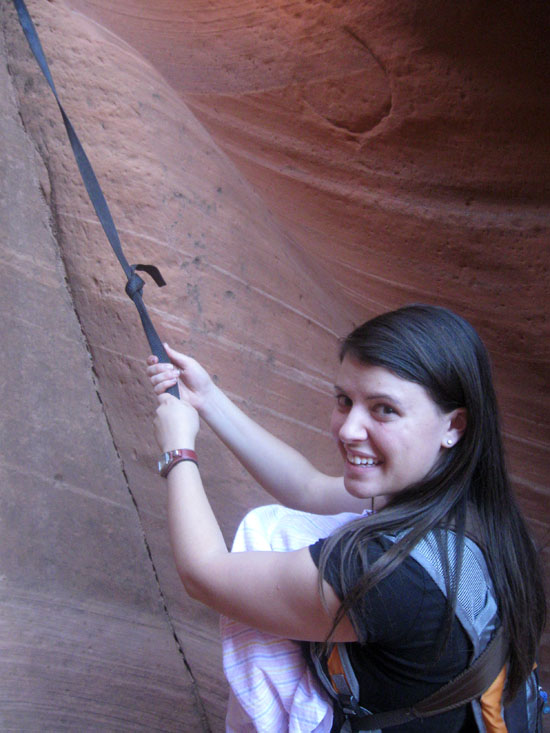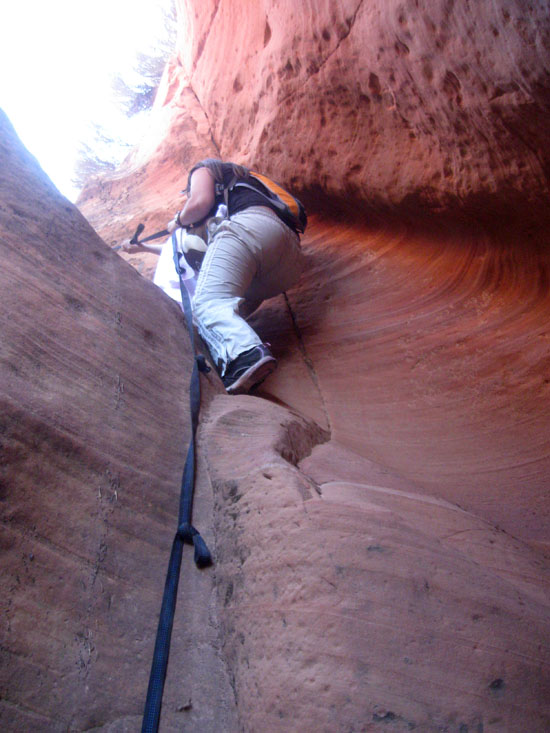 Jaron brough Savannah up, then Tara brought up the rear.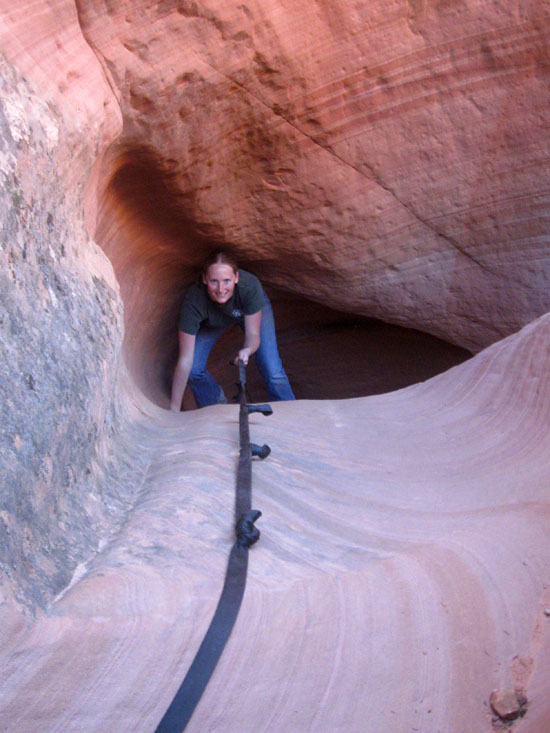 About 10 feet further up canyon, we found this dead man anchor. If we do this canyon again, I won't bring harnesses, but I will bring a long (80 ft) handline that I can run through the deadman anchor.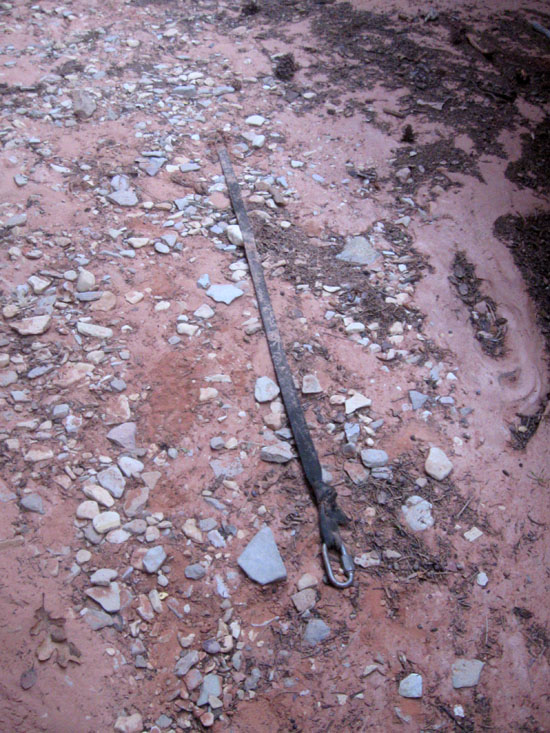 After one more small climb, we got to the top of the canyon.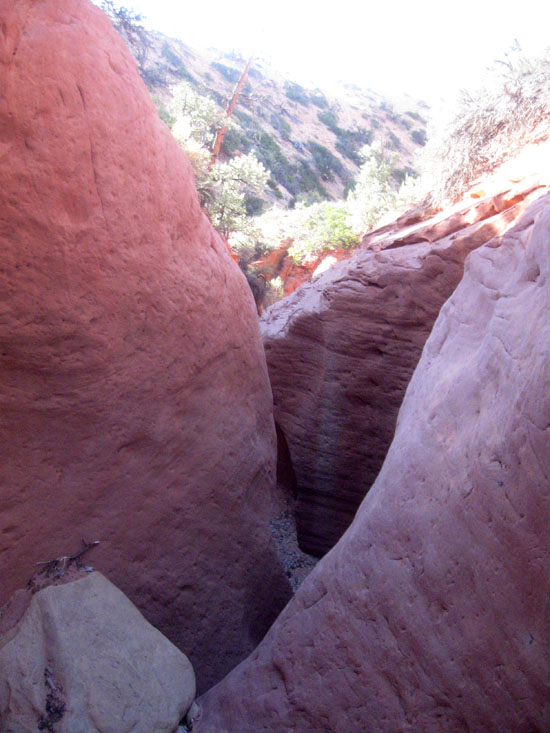 We then hiked straight up the sandstone hill and back to the car.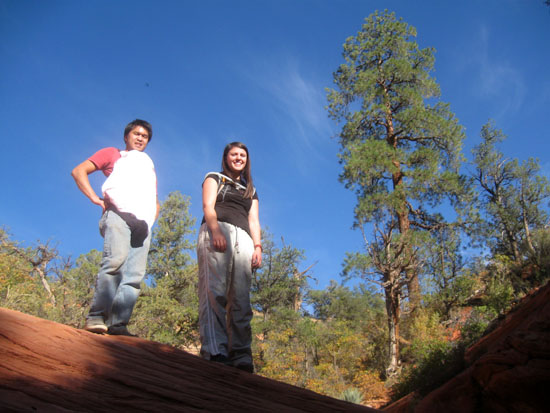 Total trip time was 2 hours.