Historic Fruita Picnic Area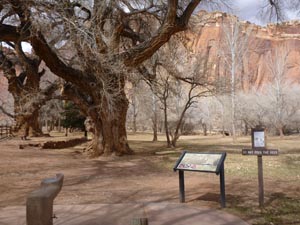 The Historic Fruita Picnic Area is a great place to enjoy a relaxing picnic amid 100-year-old fruit orchards.
Trip Report: March 16, 2013
The interpretive sign in the picnic area reads:
Mormon settlers first arrived in this sheltered valley in the 1880s. Homesteaders cleared boulders, dug irrigation ditches, planted gardens and fruit trees, and faced the hardships of pioneer life. By 1904, orchards provided fresh fruit for the frontier. Acres of cherry, apricot, apple, peach, and pear trees inspired the name Fruita for this tiny, isolated community

For a glimpse of early Fruita, visit the Gifford homestead, the Fruita schoolhouse, and a tool shed/blacksmith shop, all within a half-mile walk of here.