Casto Canyon Trail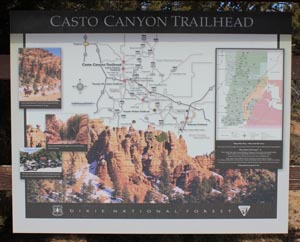 Hike as far up this OHV trail as you want. You will see lots of red sandstone hoodoos and beautiful scenery.
Trip Report: March 11, 2014
On my way back from Kanab, I stopped and quickly hiked up a portion of the Casto Canyon Trail. The trail is really long and goes up a cobble-filled wash, which is hard on the feet. The canyon is extremely scenic with excellent views of hoodoo cliffs. This canyon is definitely best done on horses, motorcycles, or ATVs.